The Tory candidate in a key general election marginal has been suspended after allegedly hatching a plot with far-right extremists to win votes by stirring up racial hatred.
Afzal Amin is accused of plotting with the English Defence League (EDL), for the group to announce an inflammatory march against a new 'mega-mosque' in the seat of Dudley North.
In return he allegedly promised that he would be an "unshakeable ally" for the EDL in parliament and help bring their views to the mainstream.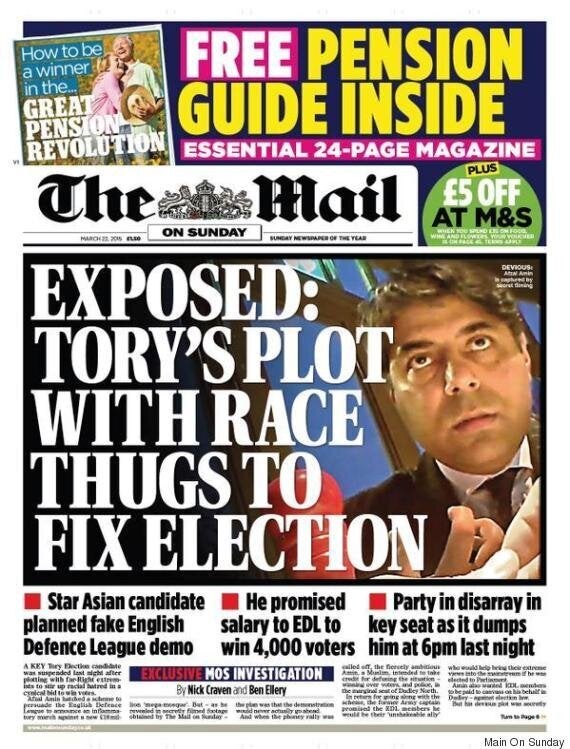 A Conservative Party spokesman confirmed that Mr Amin - whom The Mail On Sunday filmed covertly talking about the deal - had been suspended.
"Following an emergency meeting it has been decided to suspend him as a candidate with immediate effect," the spokesman said.
"The Conservative Party views this as a matter of extremely serious concern."
A full disciplinary hearing is expected to be held on Tuesday, when Mr Amin will be able to explain his actions and a decision on his future will be taken.
David Cameron is understood to have been informed of the situation and approves of the way it is being handled.
Mr Amin was reportedly filmed by former EDL leader Tommy Robinson, who blew the whistle on the plot because he objected to being used as a pawn.
The 40-year-old allegedly suggested EDL members could be paid to canvass on his behalf, and floated the idea of a phoney protest - just weeks after a real demonstration in Dudley by 600 EDL supporters led to 30 arrests.
"This is my fantasy," he reportedly says in the footage. "If I could demonstrate to the people in Dudley that I can be a positive voice for community cohesion, for development, for campaigning against the evils and the terrorism and the child grooming and all the rest of it, then that would help me a lot in the forthcoming Election.
"One way of doing that is, if you were to announce a second march about the mosque ... and then we have two meetings with the chief of police, members of the Muslim community, we all play our roles, you say 'Yeah we're going to do a march, we're campaigning and so on'.
"We have a second meeting where things are a bit calmer then at the third one, we have a press conference where we say, 'We were going to do a march. The chief police asked Afzal Amin, members of the Muslim community, we've sat together and ... we're going to work closely together".'
Mr Amin reportedly expanded on his plot in a phone call on Wednesday and in a second meeting at a branch of Pizza Express in London on Thursday.
Paying people to canvass in elections is an offence under the Representation of the People Act 1983.
But Mr Amin is said to have told the men: 'I'll put it to you bluntly. I need two white working class lads to go round those areas to say to people, 'You support the Army, if you support the troops then vote for this guy'. That's what I need."
When Mr Robinson suggested that would cost £500 a week, Mr Amin replied: 'What's that, £250 each a week? They do April 4 to the first week of May, that'll be loads ... from our perspective, they're volunteers."
Mr Amin had been due to take on sitting Labour MP Ian Austin in the election on May 7. Mr Austin had a majority of 649 in Dudley North in 2010.
Labour frontbencher Jonathan Ashworth said: "Decent people in politics share the wide consensus that the EDL are quite simply despicable. These allegations regarding such a senior Conservative Party figure in Afzal Amin are quite simply jaw dropping."
Mr Amin has previously sought to address tense issues about radicalism - he called for a summit in Dudley to help to stop young Muslims "turning to terrorism".
"I do not blame all of British society, merely that if we have our young people turning to terrorism we must ask ourselves what have we taught them after 12 years of full time education, living their whole lives in our societies and rejecting the opportunities we offer them," he said. "Only by understanding the problem can we hope to find a solution."
After the allegations came out, Mr Amin told The Independent On Sunday: "The Mail on Sunday have provided small snippets of over 57 hours of meetings between members of the Dudley Muslim community, the leadership of the EDL, Tommy Robinson and me.
"For the past year, I have been undertaking discussions with Tommy Robinson and more recently with the leadership of the EDL to prevent further inter-communal tensions and violence.
"I recognised that there was an opportunity to promote better community cohesion between various communities in Dudley and that this may serve as a model for further dispute resolution in other towns and cities."
Amin told the BBC: "It wasn't a fake demonstration. The point was to announce a march that would bring people together to discuss and through those discussions tensions would be resolved.
"What I've tried to do is to ease those tensions between those communities."
He added: "The actual reality is that the march would be used as a catalyst to bring people together to negotiate and discuss and learn about each other."
Popular in the Community