Aspiring Tory MP Afzal Amin has resigned after claims he conspired with the extreme right to stir up racial tensions for electoral gain.
Amin resigned as the party's candidate for Dudley North with immediate effect, a party source said on Monday afternoon.
He was due to face a disciplinary hearing on Tuesday. Amin was accused of scheming with the EDL to announce an inflammatory march against a new "mega-mosque" in Dudley and then take the credit for defusing the tensions.
The would-be MP was reportedly filmed by former EDL leader Tommy Robinson, who blew the whistle on the plot.
Amin initially said he would fight the allegations in the hope of staying on as parliamentary candidate in the Tory target seat of Dudley North.
The Conservatives will now move "swiftly" to appoint a new candidate, who must be in place by the time nominations close on April 9, a source said.
A Conservative spokesman said: "Afzal Amin is resigning as Conservative candidate for Dudley North with immediate effect.
"Conservative Chairman Grant Shapps has welcomed Mr Amin's decision and thanked him for his work in the past."
Speaking before his resignation, Amin told the Today programme that what was suggested was "very normal conflict resolution, confidence-building measures".
"If people do announce that they are going to do an action, and other people disagree with it, then they sit together and they resolve their differences and the action is then stopped; then this helps the communities feel that 'Yes, on the other side there is a working partner we can work with'," he said.
"That's what we were trying to stage-manage."
He insisted that the second march was proposed by Robinson at their meeting.
"There is no way that I would have the confidence to propose such a manoeuvre to the EDL leadership," Amin said.
"He is the one that proposed, absolutely, that we would do this march and then we would negotiate a way out of it.
"When he first came to me he presented himself in tears, saying that he wanted to see an improved Britain.
"I didn't realise this was the start of a year-long sting operation. That's really what I've been subject to here."
The allegations surfaced in The Mail On Sunday, which published the story at the weekend.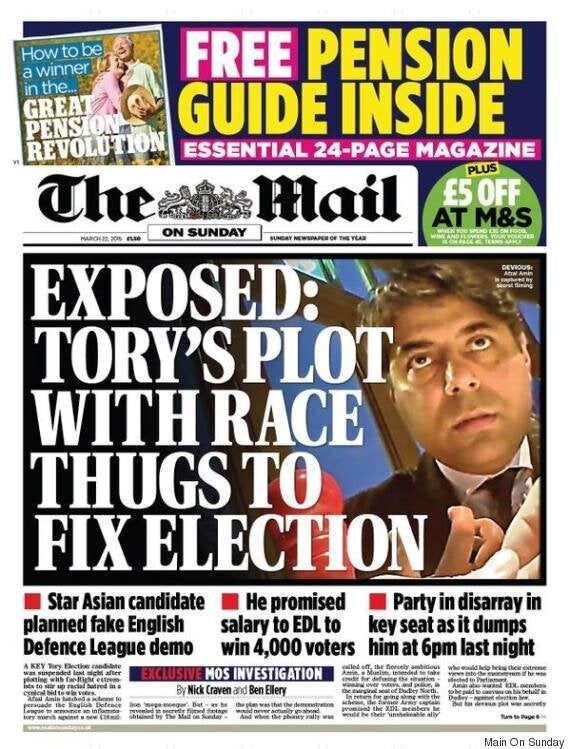 With Labour defending a majority in Dudley North of just 649, the surprise loss of the Conservatve candidate represents a setback for in a seat they hoped to win.
Labour shadow Cabinet Office minister Jon Ashworth said: "It's right that Afzal Amin has gone but what on earth took so long? Given the serious allegations involved it was obvious that David Cameron should have expelled him immediately. Instead he dithered until the candidate himself jumped before he was pushed.
Popular in the Community