A man with Down's Syndrome has starred in the most heartwarming video you'll see today, presenting his long-term girlfriend Caterina with a key to the apartment they've always dreamed of sharing.
An a cappella group sang Norah Jones' 'Come Away With Me' as they entered the McDonald's restaurant where Caterina works, parting to reveal an incredibly well dressed Salvatore.
He got down on one knee and offered a key to his loving girlfriend, who instantly started crying with joy.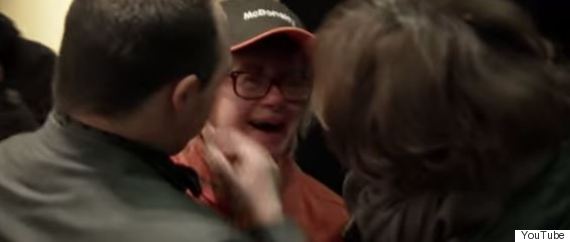 The video was posted to YouTube by CoorDown, Italy's leading foundation for people with Down's Syndrome, in honour of World Down's Syndrome Day on 21 March.
"Just like Salvatore and Caterina, many couples dream of one day living together," the organisation says.
"Let's help them realise this dream."
SEE ALSO:

Down's Syndrome Teen Held By Police For 9 Hours After Going To School To Get Favourite Hat

Man With Down's Syndrome Overwhelmed With Job-Seeking Help After Twitter Campaign