Kat Moon is to hit rock bottom in 'EastEnders' later this year, in dramatic scenes that will see her make an attempt to take her own life.
SEE MORE:
Over the past few months, Kat - played by Jessie Wallace - has had a difficult time of it on the Square, after suffering money issues and landing in hospital when her husband, Alfie Moon (Shane Richie), attempted to burn down their property for insurance money.
However, things take a turn for the worse when she learns that her uncle - Harry Slater, who sexually abused her as a teenager, leading to the birth of her daughter, Zoe - has died, and left her money in his will.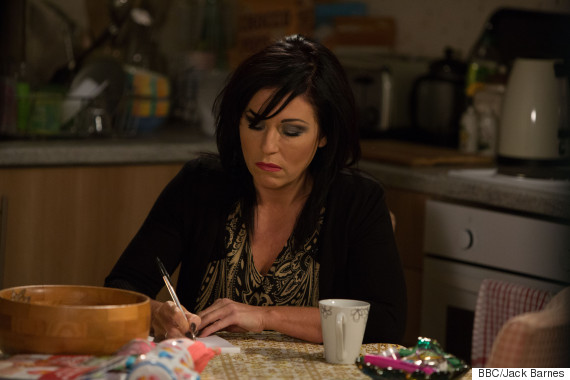 Jessie Wallace, as Kat Slater
Struggling to cope with the memories of her sexual abuse, Kat will be seen spiralling into a depression, eventually taking an overdose in an attempted suicide in shocking scenes that will air next month.
A source told the Daily Star: "This is the start of a huge new storyline for Kat. She's been knocked down so many times in life and always gets up. But it will all become too much for her."
Fortunately, her husband Alfie discovers her before it's too late, and rushes her to hospital, where she makes a recovery.
The BBC have been working closely with the National Association for People Abused in Childhood (NAPAC) to ensure that the storyline is handled sensitively.
A spokesperson for the organisation revealed: "It has been very encouraging for me that the script team at EastEnders has gone to the trouble of contacting an organisation working with adult survivors of sexual abuse to check this storyline and raise awareness of this difficult issue."
It's also been revealed that June Whitfield's imminent arrival in Albert Square will be related to this storyline, with the 'Absolutely Fabulous' actress playing a nun who advises Kat when she comes to her for counsel.
LIKE US ON FACEBOOK | FOLLOW US ON TWITTER