Well, it's been quite an afternoon in the world of Celebville, hasn't it? No sooner was it confirmed that Jeremy Clarkson would not be returning to 'Top Gear', than Zayn Malik caused a second wave of hysteria by announcing that he was quitting One Direction.
READ MORE:
After five years with the boyband, Zayn revealed on Wednesday afternoon that he was stepping down from the group, so he could try and live the life of a "normal 22-year-old", while the band has confirmed it intends to carry on as a four-piece, without Zayn.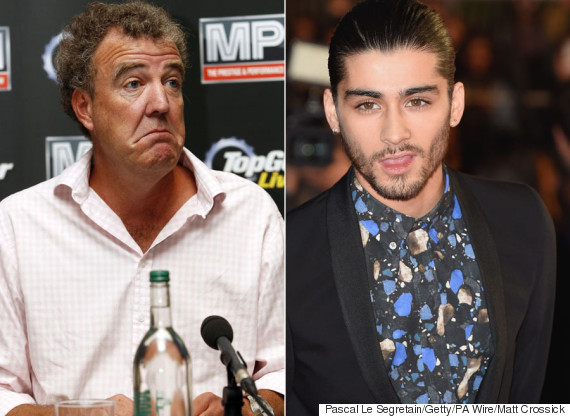 Jeremy Clarkson and Zayn Malik
It hasn't escaped our attention that both announcements were made on the same afternoon, and there's now a vacancy on both 'Top Gear' and in One Direction which has got us thinking about whether some class of showbiz job-swap is about to go on right under our noses - and we clearly aren't the only ones thinking that way...
Zayn malik leaves one direction just has Jeremy Clarkson gets sacked from top gear, coincidence? I think not... pic.twitter.com/iCsuYZxXRK

— Matty Dove (@MattyDove) March 25, 2015
Does Zayn want to host Top Gear? Can Jeremy Clarkson sing? SWAPSIES.

— Jon Hornbuckle (@JonHornbuckle) March 25, 2015
March 25, 2015
#ZaynForTopGear 🚗 pic.twitter.com/42rop8ssff

— JD and Roisin (@jdfreeradio) March 25, 2015
It all makes sense now… #Zayn #Clarkson pic.twitter.com/aqavhmy417

— The Rob Ellis Show (@TheRobEllisShow) March 25, 2015
Perhaps this "Zayn Malik" chap could become the new Top Gear presenter and Mr Clarkson could join The One Directions.

— Rees-Mogg (@JakeReesMogg) March 25, 2015
March 25, 2015
However, in true Piers Morgan fashion, he couldn't even let his long-standing rival have his moment, and has now suggested that 1D will be asking for him before long.
WHO ME? One Direction's remaining members identify their No1 choice to replace Zayn:

March 25, 2015
Last week, Zayn dropped out of the Asian leg of the group's 'On The Road Again' world tour, after being signed off with "stress".
Liam Payne came under fire from the group's loyal fanbase when he made light of his bandmate's absence in a photo on Twitter, where he was seen posing with his hand obscuring Zayn's face.
Following this, rumours began circulating that he was bowing out of the group, with a source telling the Daily Star earlier this week: "At the moment he's convinced he wants out. He is finding it all too much and wants to quit the group."
If Zayn decides that hosting 'Top Gear' doesn't constitute the life of a "normal 22-year-old", here are some other suggestions for who could replace Clarkson...
LIKE US ON FACEBOOK | FOLLOW US ON TWITTER