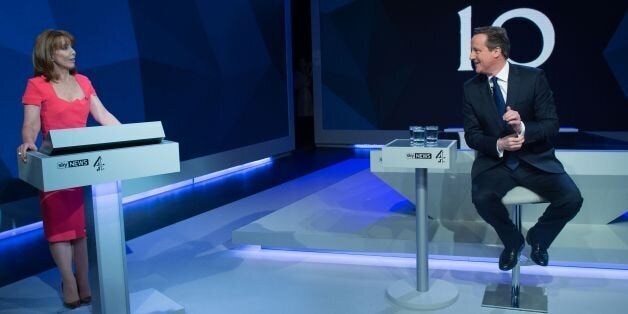 David Cameron sang a few lines of a Benny Hill song to the audience at the Sky News TV debate during an advert break.
According to Business Insider, the prime minister was asked by host Kay Burley whether he could sing while they waited to go back on live TV.
Cameron reportedly refused. But did reveal he likes to sing Benny Hill's 'Ernie (The Fastest Milkman in the West)' while in the shower. A source in the studio audience confirmed to The Huffington Post that the prime minister then read out some of the lyrics.
Here are the opening words to the song that can apparently be heard if you get close enough to the No.10 Downing Street bathroom in the morning.
You could hear the hoof beats pound

As they raced across the ground

And the clatter of the wheels

As they spun round and round

And he galloped into Market Street

His badge upon his chest

His name was Ernie

And he drove the fastest milkcart in the west.
Cameron told the BBC's Desert Island Discs programme in 2006 that the song "just reminds me of my childhood". presenter Sue Lawley: "When you are asked to sing a song, this is, I'm afraid, the only song whose words I can remember."