The Conservative Party has accused the BBC of "clear editorial bias" for declaring that there was no clear winner in Thursday night's Ed Miliband and David Cameron televised election interviews.
The BBC has rejected the accusation and said it will report the general election campaign "without fear or favour".
Last night the Labour leader and prime minister were both subjected to a brutal mauling from Jeremy Paxman as well as awkward questions from the studio audience.
A snap ICM poll for The Guardian released after the Sky News and Channel 4 programme ended handed Cameron a 54% to 46% advantage. And a YouGov poll for The Times gave the prime minister a narrow 51% to 49% victory.
However Grant Shapps complained this morning that the BBC was being unfairly kind to Miliband in its post-debate coverage. "When Obama beat McCain 54-46 in a head-to-head it was called a landslide. But for the BBC that's called 'no clear winner'. Odd!" he tweeted.
The official Conservative Party chairman account added: "BBC bias? Worrying that BBC headlines say there was 'no clear winner' last night, despite Guardian/ICM poll proving the exact opposite."
The Conservative press office was unhappy. And Tory MP Dan Byles accused the broadcaster of being "naughty" and of "very poor journalism" for failing to hand Cameron the win.
A BBC spokesperson told The Huffington Post: "We are satisfied that our coverage of last night's programme has been fair and impartial. We reported the findings of the Guardian/ICM poll across our output as well as hearing a range of analysis from voices in support of both party leaders. As the election draws nearer we expect an increased level of scrutiny of our coverage from across the political spectrum, but will continue to report without fear or favour."
On the Today programme this morning, the BBC's assistant political editor, Norman Smith, offered this analysis of the night when asked who had won.
"Well, the poll would clearly suggest the prime minister won but I have to say I suspect Ed Miliband's people may be feeling a good deal happier this morning. That's not because he landed a knock-out blow, not because there was some decisisive win moment, it all comes down, frankly to expectations. I think Mr Cameron's people will feel he performed a little bit below expectations, while Ed Miliband performed quite a bit above expectations.

"The odds were always going to be stacked against Mr Cameron. His campaign have made his leadership absolutely pivotal to the Tory campaign, that he is a stronger, more confident, more natural leader than Ed Miliband, and last night, at times, he seem unsettled. And that primarily was because of the controlled journalistic aggression from Jeremy Paxman. It was the broadcasting equivalent of bodyline bowling."
Paxman, who interviewed Cameron before Miliband, pulled no punches. The former Newsnight presenter came out swinging and hit the prime minister with tough questions on food banks, zero hours contracts and why he was friends with so many rich people.
Pollster ICM said its snap verdict of a narrow victory for Cameron in the first of the leaders' election broadcasts represented the company's "best guess" of the nationwide response. For its Guardian poll, ICM gathered 3,650 adults in an online survey earlier this week with each of them agreeing to watch the full 90 minutes of the Sky/Channel 4 Battle for Number 10 broadcast.
In the first few minutes after the programme, 1,123 of them returned to the pollster for a second survey on what they had seen, producing "ICM's best guess on what a representative sample of the voting population would say had they all watched the programme".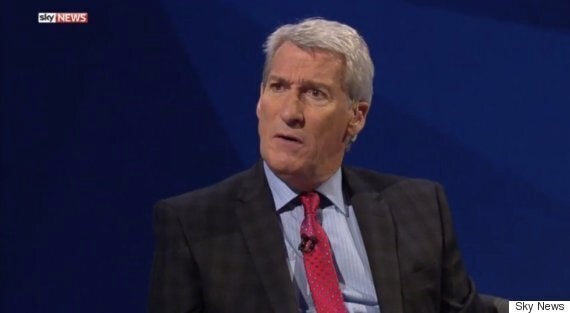 Asked whether the programme might make their vote change, 56% of floating voters said they were more likely to vote Labour, compared with 30% more likely to vote Conservative. Those in this section of the group were only a very small sub-set of the wider group.
Douglas Alexander, Labour's campaign co-ordinator, told Today that Miliband's performance has begun a "process of reappraisal" in voters minds and said he had outperformed the prime minister. The shadow cabinet minister also said Labour still wanted a head-to-head debate. "I think this morning, it's a little clearer why David Cameron is so unwilling to have that debate," he added.
Downing Street has clashed with the BBC on many occasions over the last five years. In December, George Osborne accused the broadcaster of "hyperbolic coverage" of its spending cuts.
Related