The upcoming 'Top Gear Live' tour could still go ahead with Jeremy Clarkson at the helm, according to reports.
READ MORE:
It was confirmed on Wednesday afternoon that the controversial TV personality had been sacked from 'Top Gear' after over a decade with the BBC motoring show, but it's now been claimed he could continue to appear on the show's planned tour, provided that the tour drops the 'Top Gear' branding.
According to The Guardian, BBC Worldwide are considering rebranding the tour so that Jeremy can still front it, alongside co-presenters Richard Hammond and James May.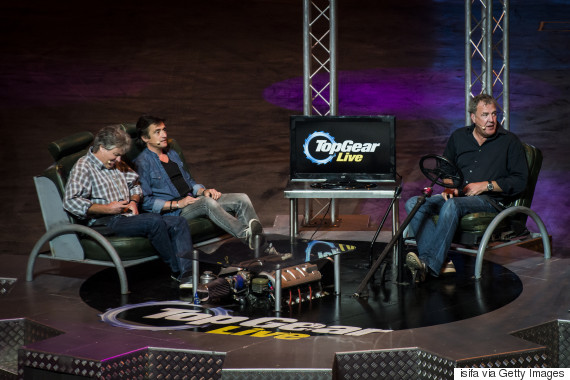 Jeremy Clarkson, Richard Hammond and James May on the 'Top Gear Live' tour last year
Although Jeremy's contract with the BBC runs out next week, and will not be renewed, the newspaper have claimed that because he has a different contract with Sub-Zero - who help run the tour - he could still appear at the planned shows.
Dates scheduled for Norway were postponed last week, in the run-up to the decision about Jeremy's future on 'Top Gear', though a source close to Live Nation - who promote the shows in the UK - insisted the show would go on.
An insider told The Guardian earlier this week: "Absolutely the tour is going on. Clarkson and the boys will be appearing in the live shows."
After a number of public controversies, the decision was finally made to sack Jeremy from the show after a "fracas" with producer Oisin Tymon, which included verbal abuse as well as an "unprovoked 30-second physical attack".
Oisin announced on Friday that he would not be pressing charges against the presenter, despite reports he could be about to face a police probe over the altercation.
SEE MORE:
LIKE US ON FACEBOOK | FOLLOW US ON TWITTER