The health campaign by St John Ambulance launched in January and has since been viewed more than 7.7 million times across Facebook, YouTube and Twitter.
The Chokeables advert was devised after research found that nearly four in five parents (79%) did not know what to do if a baby started choking.
Off the back of its success, St John Ambulance has now launched a new free e-book entitled 'The Pen That Lost His Lid' to help parents and children learn first aid together.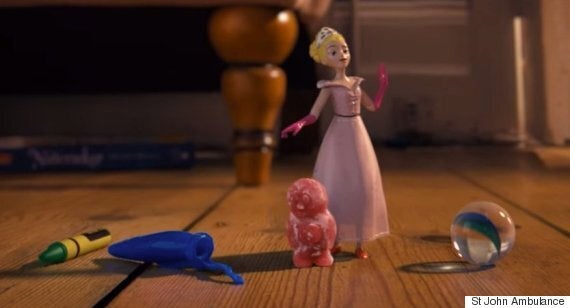 Becca Hensman, from Aldershot, Hampshire, said she was able to save her baby after seeing the 40-second advert.
She said: "When my baby son Jax started choking it was an especially scary moment as he had required resuscitation when he was born and he's had trouble getting rid of the mucus in his lungs in the past.
"On the 21st January 2015 I was sat on the sofa with my 12-week-old baby boy asleep in my arms when suddenly he started making a strange noise and started to go a funny colour.
"It became very clear quickly that he was choking on something. I'd seen the St John Ambulance advert a few days earlier so I flipped my son over on to my leg and after the third back slap I gave him he coughed.
"My dad checked his airway and luckily the obstruction cleared - my son had been sick in his sleep," she revealed.
"If I hadn't seen that advert I'm not quite sure how I'd have reacted but thankfully I had so I knew what to do straight away."
The animated advert sees a pen lid voiced by Mitchell ask for the audience's attention before a red jelly baby - voiced by Johnny Vegas - starts choking and turns blue.
Walliams' princess demonstrates the correct technique on him until he coughs up the peanut played by Sir John.
The recommended manoeuvre involves placing the baby face down on an adult's thigh, giving up to five back blows and, if that does not work, up to five chest thrusts.
If both positions fail, the advert recommends that parents should call an ambulance.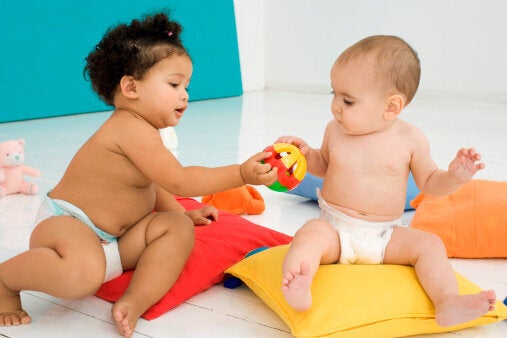 7 Things To Know About Babies
Sue Killen, chief executive of St John Ambulance, said: "The success of the campaign has been staggering, with over seven million views in our first few weeks, and we are thrilled that people have got behind the campaign.
"It's thanks to them spreading the word that so many people have been able to save a child from choking," she added.
"The Pen That Lost His Lid is a new chapter for The Chokeables, and we hope that lots of parents will download it to read with their children.
"You're never too young to learn life-saving skills and we hope the book and the video continue to make parents feel more confident and able to act in a choking emergency."