Susanna Reid proved what a pro she is during Tuesday's 'Good Morning Britain', when she suffered an unfortunate mishap in the middle of a live broadcast.
SEE MORE:
The former 'Strictly Come Dancing' contestant was forced to quickly go off-camera during Tuesday's show when she experienced a wardrobe malfunction, with the back of her dress ripping open.
Her co-presenter, Kate Garraway, kept things going, telling viewers: "I think we should explain that Susanna has just nipped out the studio after a slight wardrobe malfunction. All will be sorted out, although it has warmed John up this morning."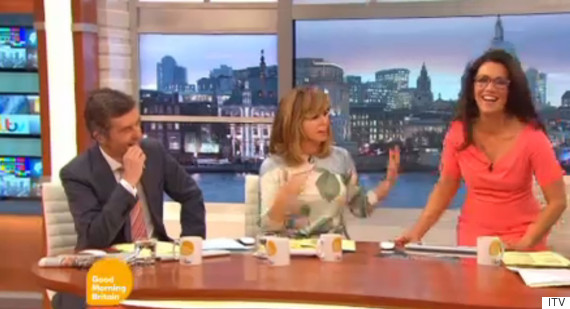 Susanna Reid suffered a wardrobe malfunction on Tuesday morning
She then joked: "He's very pleased about it. It was all marvellous for a moment there for you."
Rushing back onto the set, a slightly exasperated Susanna revealed: "My dress broke... during the news bulletin, the back of it completely split open.
"Behind the scenes, the lovely wardrobe mistress was trying to sew me into the dress. I think physics and my sheer width proved a bit of an obstacle."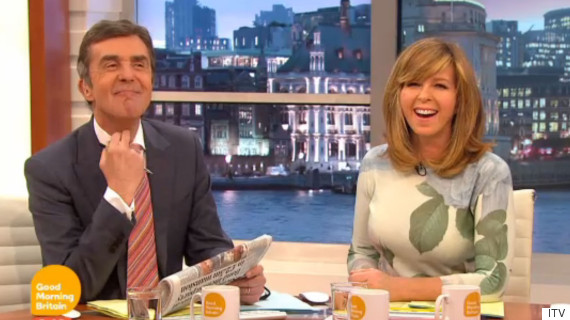 Kate Garraway jokes about the embarrassing mishap
Addressing the incident on her Twitter page, Susanna wrote she was "having one of those weeks".
Having one of those weeks ... my zip just broke. Eye still not recovered. Glasses still on. @gmb

— Susanna Reid (@susannareid100) March 31, 2015
On Monday morning, 'Good Morning Britain' viewers were surprised to see Susanna had added a new accessory to her ensemble, after she hit screens wearing her glasses.
It wasn't a fashion statement, though, and was actually because she's currently suffering from an eye infection, meaning she can't wear her contact lenses.
Kate remarked, after seeing Susanna that morning, that she'd been flattered that she was "winking" at her, only to later learn it was actually due to the infection.
Oh dear.
LIKE US ON FACEBOOK | FOLLOW US ON TWITTER