Shakil Ahmed, who represents the Kingsway ward on Rochdale Borough Council, said he wants his son to come home "as soon as possible so I can find out what's going on".
The group of five adults and four children, who are believed to be related, are being returned to the UK after they were stopped in Hatay province yesterday.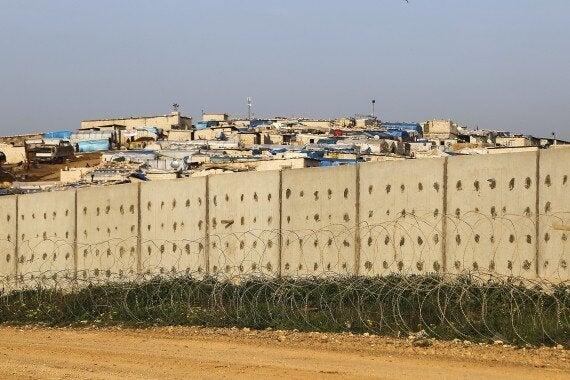 9: 3 meters in height and 500 meters long wall was built between Turkey-Syria border near the refugee camp near Atme town of Syria to prevent crossing the border without permission
Greater Manchester Police (GMP) said officers were trying to establish their reason for travelling to the Syrian border.
Assistant Chief Constable Ian Wiggett said: "What is obviously concerning is why a family were seemingly attempting to take very young and vulnerable children into a warzone; such a volatile and dangerous environment is no place for them whatsoever."
Footage released earlier apparently showed the Britons arriving at a police station in the Southern Hatay province, where they are understood to have been kept overnight.
The group includes two women aged 47 and 22, three men aged 24, 22 and 21, and four children aged one, three, eight and 11, GMP said.
The force said it had uncovered "no evidence whatsoever" of any imminent threat to the Rochdale community or elsewhere in the UK.
Mr Ahmed said in a statement: "I was shocked, worried and extremely upset to hear that my son has been arrested on the Turkey/Syria border. It's a total mystery to me why he's there, as I was under the impression he was on a work placement in Birmingham.
"My son is a good Muslim and his loyalties belong to Britain, so I don't understand what he's doing there. If I thought for a second that he was in danger of being radicalised, I would have reported him to the authorities.
"He's studying a degree in politics and sociology at Manchester University and has a good future ahead of him. I just want to speak to my son and get him home as soon as possible so I can find out what's going on."
Iman Irfan Chishti, of the Rochdale Council of Mosques, said: "We are shocked to hear this has happened in our town.
Rochdale has had its fair share of negative publicity of late, given the grooming issue, and this is the last thing we need."
Mohammed Shafiq, chief executive of the Ramadhan Foundation, said: "The news that nine people from Rochdale, including children, have been arrested in Turkey trying to get into Syria is deeply worrying.
"The idea you can take young children into a war zone is despicable and we condemn those adults who have done this."
Simon Danczuk, who is defending the Rochdale seat for Labour in the General Election, said: "I am in the process of trying to find out more information on this case from the Foreign and Commonwealth Office, though I would like to thank the authorities for stopping this family entering what is effectively a war zone.
"I'm particularly disturbed that children were involved. I've also been in touch with the father of one of the young men who was there and he is shocked and confused as to why his son would be trying to enter Syria.
"At this stage I don't want to say too much until I receive more information from the police on whether a criminal offence has been committed. But I have a very clear position on anyone trying to get involved with terrorist groups and that is they must feel the full force of the law.
He added that Rochdale "stands united against any terrorist activity".
Mr Wiggett said: "One of our primary concerns is the safety and welfare of the young children and we are working with partners to ensure a full safeguarding strategy is in place upon their return to the UK.
"We are all working together to help identify vulnerable members of our society and intervene and engage them before it is too late.
"I would also like to take the opportunity to remind everyone of their responsibility to help us in our fight against extremism and prevent anyone thinking of travelling to Syria or other war zones from going.
"This is especially difficult for parents or people with close relationships with those people in question but it is these people who are most likely to spot the early signs of radicalisation.
"If anyone has any information about individuals or groups they think are a concern or vulnerable to radicalisation they can call us in complete and utter confidence."
GMP said its officers were working closely with Rochdale Borough Council and faith leaders as part of the Prevent initiative, which aims to divert young Muslims away from terrorism and violent extremism.
The latest Britons to be detained follow three young men who were stopped at the Turkey-Syria border last month. They were tracked down after police were given a tip-off about their alleged plan to enter the country.
A woman was also arrested at the border on a separate occasion last month.
In February, police launched an international manhunt for three schoolgirls who went missing from their east London homes.
Bethnal Green Academy pupils Shamima Begum, Amira Abase and Kadiza Sultana are believed to be inside Syria after flying to Turkey on a well-trodden path to the country.
It is understood they were following another 15-year-old girl who travelled there in December.
A High Court judge has since confiscated the passports of four other pupils at the school after concerns were raised by Tower Hamlets Council.
The Metropolitan Police believe around 600 Britons have travelled to Syria and Iraq since the conflict began, while around half are believed to have returned to the UK.