Following on from Louis Theroux's 'Transgender Kids' documentary which aired this Easter, one of Britain's youngest transgender children has revealed exactly how it feels to switch gender - after being born male.
Offering a fascinating insight into the mind of a child who wants nothing more than to be a girl, 'Lily', 6, reveals to BBC News that she'd always wanted to wear girl's clothes and had known all along that becoming female would make her "happier".
"Now I'm living as a girl, I feel much better," she adds, while drawing a picture of herself in a pink dress.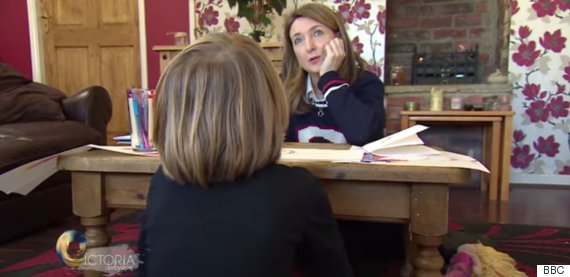 'Lily', who is one of the youngest transgender children in the UK, says that she felt "a bit sad and cross" when she found out that she'd have to wear boys clothes to school.
The six-year-old was born with gender dysphoria, which is described by the NHS as being a condition where a person experiences "discomfort or distress" because of a mismatch between their biological sex and gender identity.
It's been estimated that between 2% and 5% of the population experience some form of this.
'Lily' confesses that when she wears girl's clothes, it made her feel "much better". And when asked if she'd want to become a boy again as she grows older, she replies matter-of-factly: "No."
SEE ALSO:

Proud Mum Shares Inspiring And Heartwarming Video Of Son's Transgender Journey

Transgender Models Create Calendar To Overcome Prejudice In Indian Society

London Fashion Week First: Transgender Model, Andreja Pejic, Makes Her Debut As A Woman On The Catwalk
A documentary on BBC2, which aired over Easter Bank Holiday weekend, delved behind the issues surrounding transgender children, particularly with them making such life-changing decisions at a very young age.
The show followed the story of Camille, 6, who was born Sebastian. Just like any other six-year-old girl: she loves dressing up, playing with Barbies and her favourite Disney characters are Elsa from Frozen and The Little Mermaid's Ariel.
The only differing factor is that she was born male.
When asked about her life before becoming Camille, she exclaims: "Everyone was calling me Sebastian, but I was a girl. I used to have girl pyjamas with Minnie Mouse on them and I used to sleep in them."
Camille, who lives in California, has been given varying treatment options including psychological counselling and hormone blockers. Eventually, she will even be able to opt to have gender reassignment surgery.
But in the UK, treatments such as hormone blockers are not prescribed to transgender children until they hit puberty - usually at the age of 16. But is this too late?
In response to the documentary, many people tweeted their shared belief that it's important for children to be able to speak for themselves, rather than their parents doing it for them. With many believing that, in this case, a child's happiness is paramount.
Best thing about the @louistheroux #TransgenderKids show: hearing the kids speak for themselves.

— Cheryl Morgan (@CherylMorgan) April 5, 2015
Another brilliant, thought provoking and touching documentary by @louistheroux #transgenderkids

— Douglas Booth (@DouglasBooth) April 5, 2015
Incredible documentary @louistheroux #transgenderkids - best documentary you've done - every human has the right to be themselves.

— Damian Rogan (@Damian_Rogan) April 5, 2015
Those on Twitter saying #transgenderkids are "too young" to "choose" their gender don't get it. When did you choose? Or did you always know?

— Max Morris (@Max_Morris) April 5, 2015
Wonderful to see parents engaged and just wanting the best for the kids - no matter what. #transgenderkids

— David K Smith (@professor_dave) April 5, 2015
But there were also those who disagreed with the fact that children so young are being "allowed" to make these life-changing decisions by their parents.
With some even questioning why these children know what the term 'transgender' means.
How are these kids even aware of these words? #transgenderkids #LouisTheroux

— Yasmine Say (@yasmine_say) April 5, 2015
it's wonderful how supportive these parents are so far, but aren't these kids too young to decide on gender reassignment? #transgenderkids

— Chris Liu (@chrisliu0) April 5, 2015
The parents have no control! Kids should not be allowed to make these kinds of decisions so young! #transgenderkids #LouisTheroux

— Yasmine Say (@yasmine_say) April 5, 2015
It's no secret that transgender young people are more at risk from mental health issues - with nearly half (48%) of young transgender people considering suicide, according to the Adult Psychiatry Morbidity Survey.
It also found that 59% of transgender people under the age of 26 had contemplated suicide and 30% had attempted it in the past year.
What are your thoughts on gender reassignment at a young age? Let us know in the comments below or tweet us @HuffPoLifestyle
[H/T Mirror]