Counter terrorism detectives are now leading the investigation into the death of a Muslim preacher who was shot dead in London, Scotland Yard has said.
Abdul-Hadi Arwani, an outspoken critic of the Assad regime in Syria, was found in a parked car in Wembley on Tuesday morning.
Confirming his identity for the first time, the Metropolitan Police said detectives from its counter terrorism command are carrying out the inquiry "because of their expertise in the management of investigations with international dimensions and an established liaison network abroad".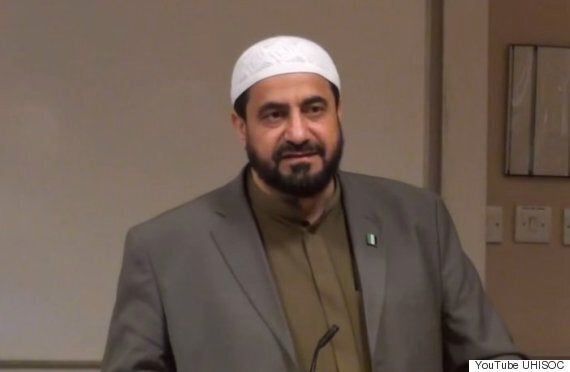 Arwani speaking at Uni Hertfordshire Islamic Society in 2012
Officers from the Homicide and Major Crime Command were initially in charge of the investigation.
The Met said that the probe remains in its "very early stages" and officers remain "open-minded" about the motive for the shooting.
Specially trained family liaison officers are supporting Syrian-born Mr Arwani's family "at this very difficult time", the force added.
A post-mortem examination will take place tomorrow.
Earlier Mr Arwani's son said the family are "at a loss to understand" what took place.
Speaking outside his home in East Acton, Morhaf Arwani, 20, said: "We are at a loss to understand what is behind this. At the moment we know as much as you do."
Mr Arwani, 48 - reported to have six children - was a preacher at the An Noor mosque in Acton, west London, from 2005 to 2011.
Visitors to the mosque today spoke of their shock and said that the cleric did not hold radical views.
One visitor said: "He was a beloved man, he used to give lectures, and teach. He was well loved in the community around here. And he wasn't radical or anything, you know, that wasn't him. "
Another said: "He was a very good man, he was a nice man. He didn't have any enemies in this community."
A statement posted on the wall of the centre read: "We have with great sadness heard of the unfortunate death of Shaykh Abdulhadi Arwani who was the former Iman of the An Noor Cultural and Community Centre who served from 2005 to 2011. He will be sadly missed."
Mr Arwani, who is thought to have fled Syria as a teenager after surviving the Hama massacre in 1982, has been described as an outspoken critic of President Bashar Assad's regime.
He is believed to have attended protests against the regime outside the Syrian embassy in London in 2012.
Tributes to him were paid on social media.
One Facebook message said: "Our beloved sheikh Abdul Hadi was murdered this morning in Wembley whilst sitting in his parked car. Bullets found in him. This is no ordinary murder. We ask Allah to shed his mercy upon the sheikh."
Police were called to reports of a man with gunshot injuries to his chest at 11.15am on Tuesday.
They found a man in his late 40s sitting in a dark coloured Volkswagen Passat in Greenhill, at the junction with The Paddocks. He was pronounced dead at the scene around half an hour later.
The Greenhill junction where Mr Arwani's body was discovered was cordoned off by police today.
Related