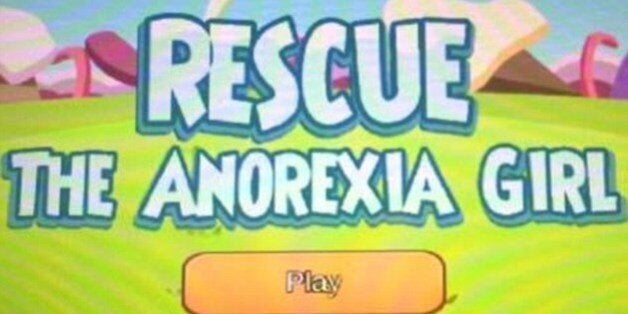 Amazon has pulled an app titled "Rescue The Anorexia Girl" from its online store after a backlash from mental health campaigners.
The game, marketed by SmartTouchmedia, encouraged players to throw cake at a woman as she popped up from holes in the ground in a Whack-A-Mole style.
"You know, heroes are not just superheroes, flying in the skies, throwing rocks and fighting villains with supernatural powers. Anyone can be a hero, if he is willing to help others from the bottom of his heart. Start saving the day now!"
If players do not throw enough food, the woman starts to lose weight and eventually "dies".
The app's creators claim they were attempting to raise awareness in a jovial way, but commenters and social media users panned the premise.
"You don't throw air at someone with cystic fibrosis, so don't throw food at someone with anorexia," Kelly Bradley said.
The Anorexia & Bulimia Care charity deemed the app "horrific" and said it "actively encourages people to make fun of those struggling with life threatening eating disorders."
"Throwing food at a person struggling with anorexia nervosa, who has a serious disabling fear of food in order to make them well suggests that anorexia is a fad and self-inflicted and not a complex psychological illness," a spokesperson told The Independent.
Useful websites and helplines:

Beat, call 0845 634 7650 or email fyp@b-eat.co.uk

Samaritans, open 24 hours a day, on 08457 90 90 90

Mind, open Monday to Friday, 9am-6pm on 0300 123 3393