Game of Thrones actress Carice van Houten is no stranger to a bit of torture (who can forget the infamous leech scene), so perhaps we shouldn't be surprised that she's tried a shocking beauty treatment in the run up to the season five premiere.
The 38-year-old Dutch actress who plays red priestess Melisandre in the fantasy show, has shared a photo of herself on Instagram having a rather scary looking gadget pressed against her brow.
From van Houten's open-mouthed expression it seems she is about as alarmed by the pronged contraption as we are!
Rest assured this isn't a spoiler showing Melisandre's fate in season five. Van Houten is actually undergoing a CACI Microlift - in which a microcurrent is used to "tone the skin and re-train facial muscles".
Linda Evangelista, Sadie Frost and Gail Porter are also fans, and if you are so inclined you can now buy a handheld Caci Microlift to use at home for £349.99.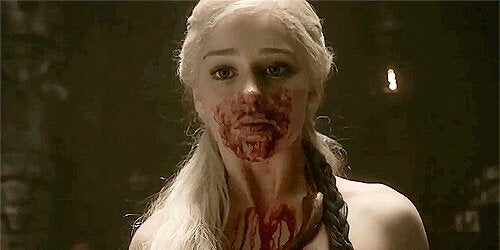 12 Times The Women Of 'Game Of Thrones' Were Super Fierce
Related