Health secretary Jeremy Hunt has been accused of "making stuff up" after he seemed unable to explain how the Tory party would meet today's commitment to invest at least an extra £8 billion a year into the NHS by 2020.
Despite saying the announcement was a "significant moment in the history of the NHS", Hunt seemed rather hazy about where the £8 billion would actually come from, prompting a BBC Breakfast host to ask "Do you make this stuff up as you go along?"
The health secretary spoke about the manifesto plans in a raft of media appearances on Saturday and was slammed by critics for evasive answers and implying that "confidence" in the economy would fund the pledge.
Asked where the money would be coming from on BBC Radio 4's Today Programme, Hunt said, "Well, it's the right question to ask, because.."
"It's the obvious question to ask, because you haven't said so far," replied presenter Mishal Husain.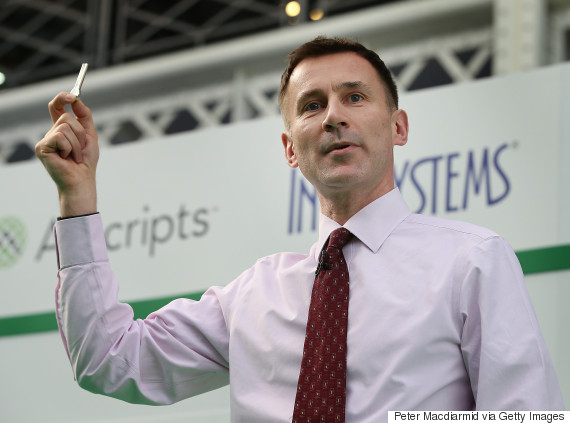 Jeremy Hunt didn't seem able to explain where the funding would come from
"No, we have absolutely made it clear," Hunt responded. "We inherited an economy that was looking into the abyss, we've turned that around, it's the fastest-growing economy in the G7, it's creating 1,000 jobs every single day. Those jobs are paying taxes, the companies, the new companies that are being created are paying taxes, and it's on the back of.." Hunt replied.
"Right, so it's based on an assumption, then," Husain fired back, "an assumption that the economy's going to grow to the point that you'll be able to afford this by 2020?"
"On more than an assumption," Hunt said, saying annual spending on the NHS has risen over £7 billion in real terms during this parliament and he was "absolutely confident that we can put about the same again."
"Confidence is not the same as a spending commitment," Husain cut in, "You are making a spending commitment today without saying where that £8 billion is going to come from."
"But confidence is the issue," Hunt replied, before saying that voters had a choice between the Tories and Labour which he said wanted to "tear up the economic plan that has created the wealth that now means that we have record doctors and nurses in the NHS."
Jeremy Hunt channelling Yes Minister. Asked where NHS cash comes from he says 'that's the right question to ask' without answering #r4today

— Joel Taylor (@JoelTaylorMetro) April 11, 2015
Urge everyone to do a @Jeremy_Hunt today & try to pay for a round using "confidence" & "efficiency savings"

April 11, 2015
Persisting, Husain asked Hunt: "Do you recognise this statement: 'the chaos of unfunded spending promises'? Do you know who said that?" She was referencing words used by Tory chancellor George Osborne in January to undermine Labour's NHS plans. "You're now going for chaos are you?" Husain added.
"We can fund these promises," said Hunt, saying that the evidence was the "track record" of the Conservative party over the last parliament.
"So what you're saying is [it's] just trust?" said Husain. "Essentially what you're saying is don't worry about the evidence."
"Let's talk about the gap between what you're saying you're going to spend and what you're saying you're going to cut," she continued.
"The question you're asking is exactly the right one," Hunt replied, before again stressing the Tories' economic record as evidence that they could be trusted to keep to the commitment.
BBC Breakfast interviewed Hunt and host Charlie Stayt queried why the £8 billion hadn't be mentioned in the recent TV leaders' debate, asking if Hunt was "making this stuff up" as he went along. Hunt replied that the comment was "disrespectful".
Labour said the Tory party had "no idea" where the money would come from, and many people online seemed to agree after Hunt's awkward media performances:
I think Charlie Stayt asked the question we all wanted to ask @Jeremy_Hunt on @BBCBreakfast "Do you make this stuff up as you go along?"

— Paul Duxbury (@PaulDuxbury) April 11, 2015
Charlie Stayt of BBC Breakfast has just gone up in my estimation by asking Jeremy Hunt "are you just making this stuff up as you go along?"

— Alison Cameron (@allyc375) April 11, 2015
That was embarrassing from Jeremy Hunt on BBC News this morning. "Yes, the money WILL just be coming out of thin air, actually."

— Rev. Stuart Campbell (@RevStu) April 11, 2015
Where will extra £8b for NHS come from ? "More than an assumption..a track record...a commitment" says Jeremy Hunt @BBCr4today

— norman smith (@BBCNormanS) April 11, 2015
"No we don't but we can have confidence ..." Jeremy Hunt on @BBCNews crumbles a little more of the @Conservatives' campaign into dust.. #NHS

— Purbeck Pashmina (@PurbeckPashmina) April 11, 2015
Jeremy Hunt on #skynews genuinly just said "Labour would spend less on the #NHS, because they want to spend more" #ToryLogic #GE2015

— Bradendavy (@BradenDavy) April 11, 2015
Jeremy Hunt on @bbcr4today hasn't got a clue where the money would come from for Tory announcement. Nobody will believe a word of it.

— Alex Belardinelli (@abelardinelli) April 11, 2015
Jeremy Hunt will fund the promised £8bn for the NHS by having "confidence".Ta-daaaa.#r4today #GE2015 pic.twitter.com/2J0LEPuiOx"写真の顔が嘘ピョン言ってない?笑

— きゃず (@KWIL6) April 11, 2015
Jeremy Hunt thinks that if he tries to sound sincere we will believe him.

— Chris Bryant 2015 (@ChrisBryant4MP) April 11, 2015
Jeremy Hunt keeps saying 'that's the right question to ask' and then refuses to answer. Where is the money coming from?

— Chris Bryant 2015 (@ChrisBryant4MP) April 11, 2015
@GracieSamuels We're meant to just have "confidence" that @Jeremy_Hunt is telling the truth. Who do they think they/we are?

— Flumpmistress (@flumpmistress) April 11, 2015
Jeremy Hunt will find the extra £8bn for the NHS using a fiscal policy known as 'don't you worry your pretty little head about it'.

April 11, 2015
Tories tweeting about £8bn/yr extra for the NHS by 2020 but no one, incl. @Jeremy_Hunt can say where the money is coming from #emptypromise

— Luciana Berger (@lucianaberger) April 11, 2015
Hunt was also ridiculed for claiming that the coalition government inherited a shrinking economy when it came to power, which tweeters including the director of the National Institute of Economic and Social Research, Jonathan Portes, pointed out was untrue:
Seems we're at "let's just make it up" stage: "@CCHQPress: @Jeremy_Hunt: " we inherited a shrinking #economy

and we have turned it around"

— Jonathan Portes (@jdportes) April 11, 2015
Jeremy Hunt: "We inherited an economy that was contracting" no one seems to be making an appeal to numerate voters

— Tom Lubbock (@tmlbk) April 11, 2015
Jeremy Hunt this morning keeps saying the Conservatives inherited a shrinking economy - not quite true, third quarter 2010, it grew by 0.7%.

— Darren McCaffrey (@DMcCaffreySKY) April 11, 2015
#r4today the economy was GROWING at 1.5% when you took office @Jeremy_Hunt Your austerity plans cut back the economic growth you inherited

— sue owen (@sueowen3) April 11, 2015
The Prime Minister said on Saturday that he would protect the "amazing" health service by funding in full the five-year reform plan put forward by its chief executive Simon Stevens.
The commitment means that over-75s will be guaranteed same-day access to GPs, patients will be able to see doctors out of regular office hours and the NHS will provide a full range of services seven days a week, according to Mr Cameron.
Referring to the care of his severely disabled son Ivan - who died in 2009 - the PM added: "As someone who's been supported by the NHS at the most difficult time in my life, I'm utterly committed to ensuring it is there for everyone when they need it too.
"That's why I'm backing the NHS's own plan with the cash required to ensure it can continue to deliver an amazing service to patients and their families in the future."
Writing in The Guardian, Chancellor George Osborne said: "We back the NHS's plan, but there's no point having a plan without the funding to deliver it, so today we commit to deliver what the NHS needs."
"We in the Conservative Party are in no doubt about our approach: the NHS is something precious, we value it for the security it provides to everyone in our country, and we will always give it the resources it needs."
Liberal Democrat health minister Norman Lamb accused the Tories of "trying to pull the wool over the British public's eyes".
He added: "It's easy to say you want to support the NHS, the difficult part is saying how you will pay for it.
The blueprint unveiled by the NHS in October predicted that if health spending rose only in line with inflation, growing demand for care would leave NHS England with a £30 billion funding gap by 2020.
The chief executive said around £22 billion of that could be met through efficiencies - but the rest would have to come from government coffers.
GENERAL ELECTION 2015
The Liberal Democrats have committed to finding the extra money, and Hunt previously gave a strong indication that the Tories would also meet the demand.
A Labour Party spokesman said: "The Tories are briefing the same story they've done five times before. There is still no firm commitment, still no idea where the money coming from - and they still can't be trusted on NHS."
A Lib Dem spokesman said: "The Conservative ideological obsession with cutting the size of the state means they cannot afford this unfunded spending commitment.
"The Liberal Democrats are the only party who has committed to giving the NHS the £8 billion it needs and have set out how we will pay for it.
"Tory spending plans will not help the NHS but rather destroy vital public service and decimate basic entitlements."
The Tory move, on a key election battleground, comes after a week of bitter skirmishing that saw the Tories question Ed Miliband's character - reminding voters that he "stabbed his brother in the back" to win the Labour leadership.
Mr Cameron has insisted his party is merely raising legitimate concerns over issues such as the renewal of Trident and a potential tie-up with the SNP.
However, Mr Miliband argued that the personal attacks showed the Conservatives were "desperate", and polls have suggested Labour may have gained ground slightly.