Madonna made a surprise appearance during Drake's set at the Coachella festival - and even planted a smacker on his lips during her performance.
SEE MORE:
Before he took to the stage, rumours began circulating that Drake - who name-checks the Queen of Pop in a track on his latest release 'If You're Reading This It's Too Late' - would be joined on stage by Madonna, who last performed at Coachella in 2006.
Fans were then delighted when she put in an appearance, breaking up his set to perform her 1994 hit 'Human Nature'.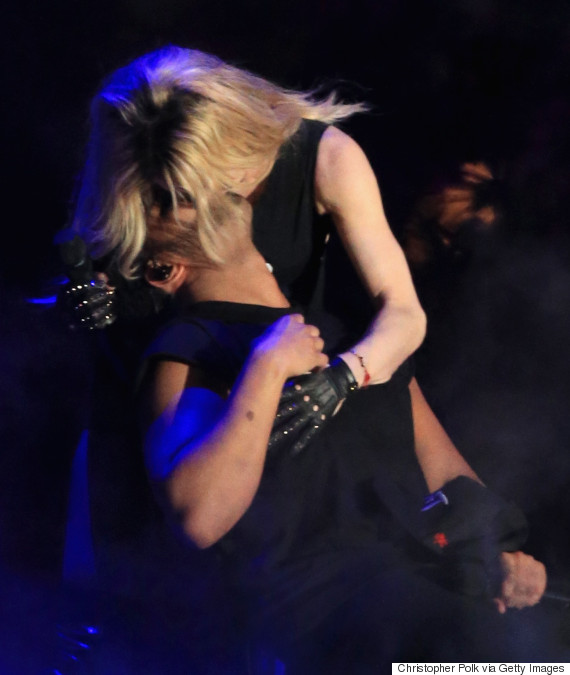 Madonna and Drake on stage at Coachella
To echo the song's frank and unapologetic lyrics about her sexuality, Madonna then shocked the crowd by giving Drake a lengthy snog as they performed.
However, he didn't exactly look thrilled to have been on the receiving end of one of Madonna's passionate kisses.
Oh dear. Never mind, Drake, at least you're in good company with Britney Spears...
Madonna joked about her love of dating younger men while she performed a stand-up comedy routine on 'The Tonight Show with Jimmy Fallon' in America, which we're sure didn't exactly have Kathy Griffin quaking in her boots about losing her comedy crown.
While on the show, she also delivered an energetic performance of 'Bitch I'm Madonna', a Nicki Minaj collaboration which appears on her latest album, 'Rebel Heart'.
LIKE US ON FACEBOOK | FOLLOW US ON TWITTER