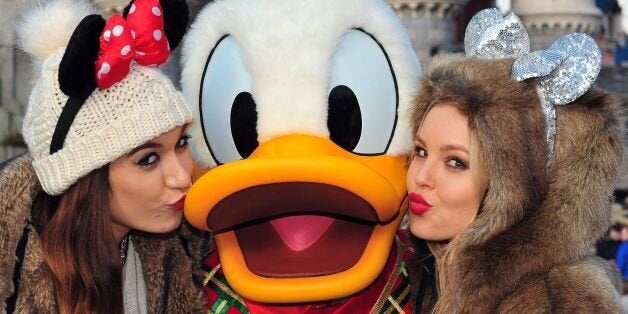 What's the plan for the weekend? Same old drinks in the same old bar followed by the same old late night bite waiting for a cab under a windswept umbrella? Or indulging in a spot of magic with your best friend while basking in the glow of the bright lights of Disneyland Paris?
Call your bestie. Start the adventure. Here are 9 top tips on how to plan the fun fest...
Bring heels if you want to hit the bars at Disney Village or the evening entertainment at your hotel, but for the parks, you'll need footwear made for walking. You'll be most comfortable in jeans or shorts by day, and of course sunnies for all those selfies with Disney stars. If you're staying at one of the Disney poolside hotels, don't forget your swimming costume. Most of the hotels have a well equipped gym, perfect for working off any indulgences!
Disneyland Paris is an all-year-round destination. In spring and summer there's a fantastic buzz in the parks, and the attractions stay open a bit later; in autumn you get the fabulous Halloween festival, while at Christmas, the whole park becomes an enchanted wonderland. And of course there are fireworks and parades at all times of the year. Top Tip: There are plenty of offers (and smaller queues) outside of the usual school holidays, so make sure check online for the latest deals.
Getting to Disneyland Paris couldn't be easier. One minute you can be having breakfast at home, and the next? Lunch at Disneyland Paris! From London St Pancras it's just a 2 hour, 45 minute journey directly to Disneyland Paris Marne-la-Vallée/Chessy station, which is literally at the gates of the Parks. Another great thing about travelling by train is that you don't have to worry about luggage allowance (although the usual security measures apply as at airports, so don't be tempted to pack more than you can carry - you still need to be able to lift your case on to the train).
4. What to do when you get there
Once you've checked in to your hotel and unpacked, it's time to hit the parks. The stroll down Main Street towards Sleeping Beauty's Castle and the entrances to the different lands is guaranteed to make you skip, however old you are. Make sure you pick up a map from the gates (or you can use the clever Disneyland Paris mobile app on your phone, which has maps, ride details and waiting times).
There are so many amazing rides at Disneyland Paris, your biggest challenge is trying to fit it all in. The Toy Story Parachute Drop, Tower of Terror, Aerosmith's Rock 'n' Rollercoaster, RC Drop and Ratatouille: The Adventure at Walt Disney Studios Park, Indiana Jones and the Temple of Peril, Space Mountain: Mission 2 and Buzz Lightyear Laser Blast at the Disneyland Park... the ride literally never stops. Refreshingly, all attractions are included in the price of your entry ticket, so once you're in, all the rides are free. And when it gets dark, the fireworks begin, and Disney Village turns into party central.
6. Ways to make every second count
Fastpass. We can't stress this enough. It's genius in its simplicity: get a Fastpass ticket for the most popular rides, arrive at your allotted time, beat the queue. Be careful not to waste time wandering aimlessly - decide in advance which rides and attractions you want to see.
The great thing about Disneyland Paris is that whatever food you fancy, you can find - and a lot of the restaurants are themed; for Eastern-inspired food head for Agrabah Café at Adventureland, for fish and chips go to Toad Hall at Fantasyland and a burger at the 50s-themed Annette's diner in Disney Village is a must. There's even a Pizza Planet, just like in Toy Story. You'll also find fabulous cuisine at the restaurants at the Disneyland Paris hotels; plus of course all that great theme park snack food like hot dogs and candy floss (here they call it barbe à papa).
T-shirts, sweatshirts, Christmas decorations (everyone should have Tinkerbell on the top of their Christmas tree, right?), fridge magnets, soft cuddly Mickey and Minnie Mouse plush toys, sweets and a few tubs of barbe à papa for the guys back at the office.
Beware the Disneyland Paris withdrawal! Symptoms include cuddling the Mickey plush you bought for your niece/nephew and sobbing as you sing It's a Small World After All, or asking if you can Fastpass at the bus queue. But then there's always another weekend to plan for your next magical getaway.