A year ago today, 219 schoolgirls were kidnapped from their school in Chibok, in the north-east of Nigeria.
The girls were taken by Islamist militant group Boko Haram, whose name translates as "Western education is forbidden" and although some have since managed to escape, most are still missing.
The abduction was slow to appear in the news, but the operation to rescue them soon gained traction as high-profile figures such as Michelle Obama and Malala Yousafzai highlighted the campaign.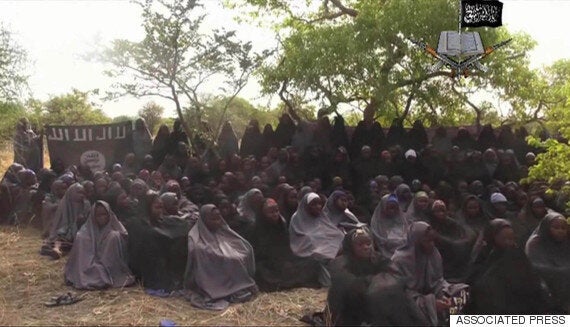 The Chibok schoolgirls have still not been found
The #BringBackOurGirls campaign swept social media and today the hashtag resurfaced as the people of Nigeria held ceremonies to commemorate that fateful day.
We've gathered ten quotes as a reminder that the #BringBackOurGirls campaign still has work to be done until every schoolgirl is brought home…
1. Pindar, mother of Maimuna, told the BBC: "I know that she is alive and I will see her. Sometimes I go inside and rearrange her clothes, believing that God will bring her back to me."
2. Maimuna's younger sister added: "I feel lonely whenever I see sisters walking together. I wish it was me and her. Unless they bring my sister back I can't go back to school, I won't. I'm afraid."
3. Jonah Bulama's 13-year-old daughter Amina was taken by the militants. He told the Independent: "Every day we look at a photo of Amina and are bitter that we're alive but can't do anything to help our daughter. We can't do anything but hope.
4. Rhoda, 20, sister of one of the kidnapped girls, told ActionAid: "The day I heard about the kidnappings it was in the afternoon. I heard about the abductions and was thinking this was my sister's school even before it was confirmed. I couldn't eat that day, my heart was beating so fast. To this day my body doesn't feel good, I've been feeling ill all the time since then.
5. Godiya Usman, 18, managed to escape Boko Haram by jumping off the back of a truck, according to the Guardian. She said: "When my cousin Lami started crying, one of them pointed a gun to my head and said if she didn't stop, he would shoot both of us. I held her and told her we had to just follow their instructions, but I was so scared I could barely even whisper the words. They drove us into the forest and each time we got to a village, they stopped and started shooting and killing people and burning their houses."
6. Lawan, whose sister and two nieces were abducted, told the BBC: "My nieces, aged about 12 and 14, are the daughters of my two brothers; there is nothing as an individual they can confront - there is little one can do. Their wives are just like the others - crying and grieving, grieving."
7. Shaku, 16, brother of one of the abducted girls,told ActionAid: "I loved my sister very much. She is my older sister and sometimes she would call me and say: 'Let us go and read' and we would read together and she would help teach me things that I didn't know. When I remember these things, I can't sleep and I start to cry."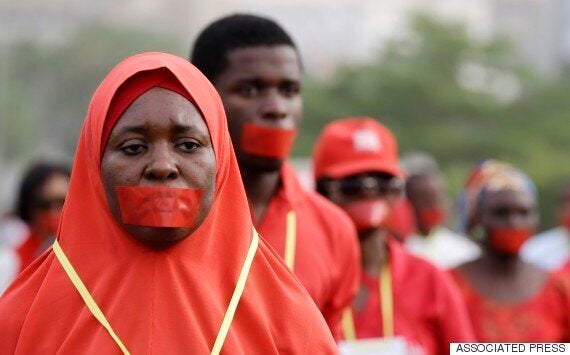 Nigerians gathered today to commemorate the abduction
8. Hajara (not her real name) escaped the militants and told the BBC: "I thought, it's preferable to have these people shoot me as I run than have them humiliate me. They kept saying to us: 'Make sure you put on your scarves. Make sure you put on your scarves. We'll shoot any girl we see without a scarf. And any girl who jumps out will die.'"
9. Muhammdu Katarko was reunited with his daughters, who were abducted in another Boko Haram raid. He told the BBC: "I had given up when they were kidnapped; my hope was to see even their dead bodies. But fortunately I have now seen them alive, health and hearty."
10. Dauda Iliya, spokesman for the Chibok community in the Nigerian capital of Abuja, spoke to a rally of parents. According to the Voice of America, he said: "The Chibok community is pained, we cannot take this anymore."