The superstar made a powerful body image statement this weekend, when she walked on stage at the annual MTV Movie Awards dressed as a Victoria's Secret Angel.
Rebel arrived at the awards wearing a black dress with a cape lined in hot pink, but she quickly changed into the Anegl outfit to join her Pitch Perfect 2 co-stars to share a new clip from the upcoming movie.
Just like the supermodels du jour, who walk the annual VS fashion show dressed in underwear and angel wings, Rebel sported huge white wings as well as a fringed bralet, black winged trainers and black leather trousers.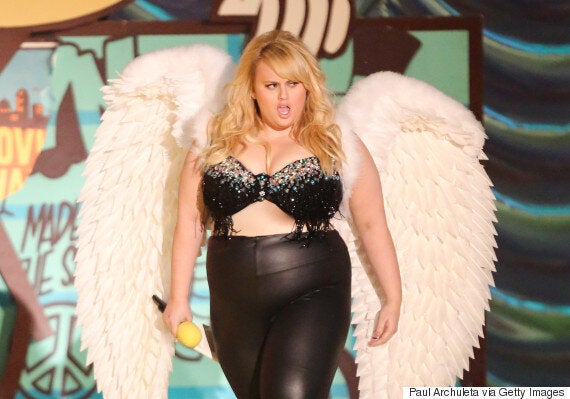 She also had the word "think" written in bejewelled letters on the seat of her trousers. A nod perhaps to Victoria's Secret 'Pink' range, which is aimed at college students. " We're for the independent spirit on campus," reads the pink section of their website. "True of heart, intelligent, and inspired!"
Rebel's message was simple: we need more body image diversity. To continue to hold up one female body type is damaging.
"In Pitch Perfect, we're called The Bellas, which means beautiful, and we have a whole bunch of different girls in the group who are all different shapes and sizes and nationalities," she said in the press room after the show.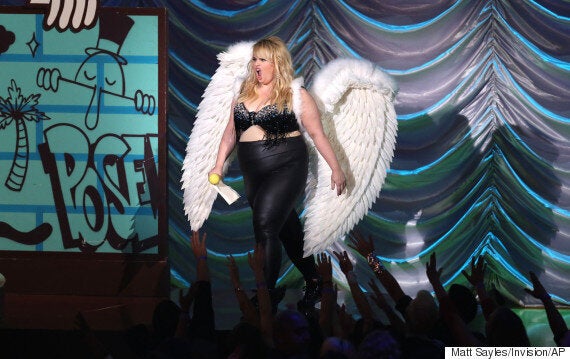 "I think one of the good messages in the movie is that you're all beautiful and that sometimes girls will look at Victoria's Secret models and think they have to model themselves after that, but I really don't think that's the best. Even though they're called models, they're not the best people to model themselves after," she added.
"I'd like to encourage other girls to think that way, which is why I put [the word 'think'] on my butt. It's about what's up here [points to her head] and not what's here [points to her bottom]."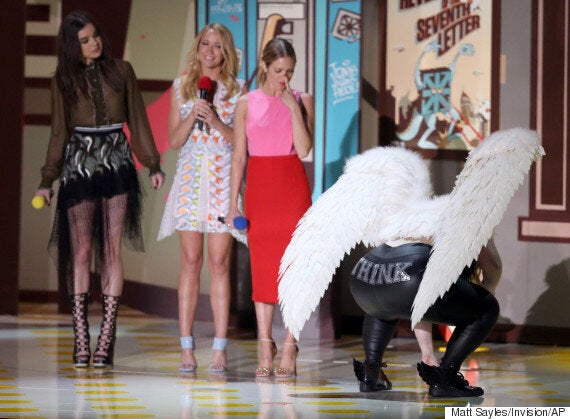 In a recent interview with Elle UK, where she is this month's cover star, Rebel admitted that she was once quite a reluctant fashion icon.