Experts have warned that Russia is showing that it has "full spectrum capability warfare" by sending warships and planes into UK territory yesterday - while the country's army insists it was "normal international practice".
James Nixey, head of the Russia and Eurasia Programme at Chatham House, said: "These things aren't done by accident.
"Russia is trying to show it has got full spectrum capability warfare.
"It is not a prelude to war but it is a reminder that Russia likes to remind us of - that it is a power to be reckoned with, not a fading power, which might be closer to the reality.
"It can tell us that with a degree of braggadocio." HMS Argyll monitored the Russian ships as they passed through the English Channel
He did, however, admit that the English Channel - where Russian warships were spotted - was a "legitimate shipping lane".
Despite the rising tensions between Moscow and the UK, Russian defence chiefs denied that there was any wrongdoing.
Maj Gen Igor Konashenkov was quoted by Interfax news agency as saying: "Our aircraft operated in absolute compliance with international rules and did not violate anything.
"They simply call it intercept while we just call it escort.
"This is normal international practice, nothing special. Our aircraft have not violated anything."
British warship HMS Argyll, based in Plymouth, Devon, kept tabs on the Russian ships, comprising he Udaloy class destroyer Severomorsk, a tanker and a support ship.
The Ministry of Defence said no exercises were seen, although earlier reports had suggested the vessels were set to carry out military drills.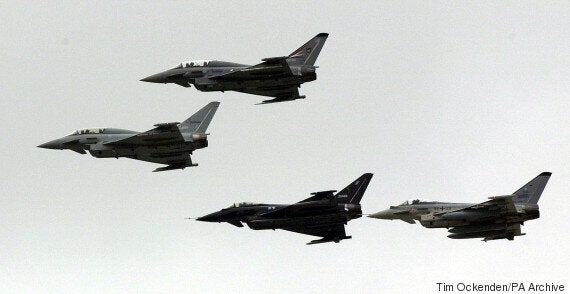 RAF Typhoons were scrambled when Russian jets flew near UK air space
Meanwhile, RAF Typhoon jets were scrambled after Russian military planes were identified flying close to UK airspace.
According to the BBC's defence correspondent, Jonathan Beale, the Russian aircraft were initially shadowed by Norwegian planes before nearing UK airspace.
Ministry of Defence spokesman said: "RAF Quick Reaction Alert Typhoon fighter aircraft were launched today after Russian aircraft were identified flying close to UK airspace.
"The Russian planes are being escorted by the RAF in the UK area of interest."
Yesterday's incidents came as all branches of the British military take part in large-scale military exercises.
The Nato war games, which started on Saturday and run until April 24, include "significant naval and aerial activity" off the west and east coasts of Scotland, the Royal Navy has said.
There is also activity taking place at several other locations in the UK.