Twin boys aged 18-months have died after their pram rolled into a canal as their mother tried to swat away a bee.
Silas and Eli Keslar were belted in when their buggy went into the water in southwestern Arizona.
Their 26-year-old mother Alexis jumped into the steep sloped canal on Friday but couldn't rescue the boys because the deep water was moving so fast.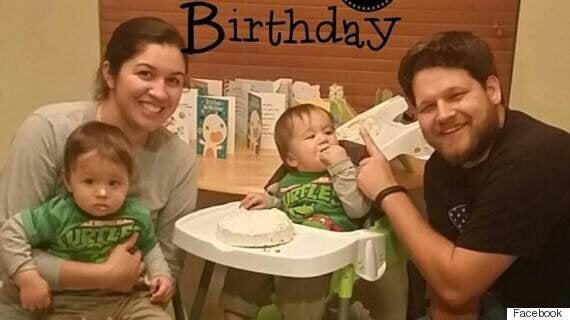 Police say Silas and Eli Keslar were strapped into their pram
The Yuma County medical examiner has determined their deaths were accidental drownings.
"We're not seeing any criminal actions or activity," police Lt. Don Willits said.
He said Keslar managed to get out of the canal, but she'd lost her mobile phone in the water. She yelled for help, and a Yuma city public works employee who was nearby heard her and called the emergency services, Willits said.
It took authorities more than an hour, however, to find and retrieve the boys.
The canal's water level was lowered to help the rescue effort, but Silas and Eli were pronounced dead at a hospital.
"When I found out who the little boys were, all I could feel was a knot in my stomach," Marlene Gleim, a friend of the twins' grandmother, told KYMA-TV.