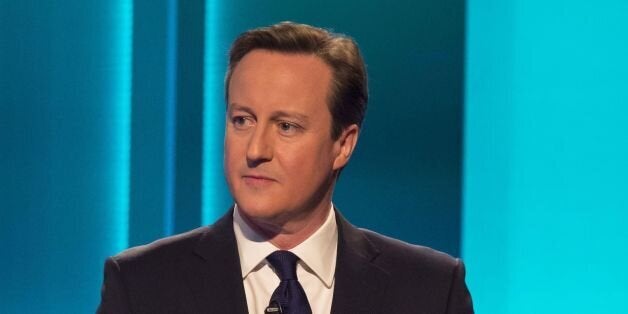 Ed Miliband has accused David Cameron of running scared, as the prime minister will not be taking part in this evening's televised election debate.
Lib Dem leader Nick Clegg has complained to the BBC about his exclusion from the so-called Challengers Debate which will feature the leaders of parties not in government. the deputy prime minister has said he would be happy to use the platform to defend his record.
Miliband will line-up in London tonight with Nicola Sturgeon, Leanne Wood, Natalie Bennett and Nigel Farage. Miliband is likely to be the main target of the other leaders, all of whom are trying to take votes from Labour.
Speaking on the campaign trail in the capital this morning, Miliband attacked Cameron for choosing "not to turn up tonight to defend his record".
"Here's what I believe, I think if you are applying for the job of prime minister, the very least people expect if for you to turn up to the job interview," he said.
"What I'm going to be doing is getting out the big choice facing our country, between a Labour plan to have recovery for working families across Britain or more of the same from a government that believes as long as you look after the rich and powerful, everyone else will be okay. It has failed Britain - that's why we need a Labour government."
The BBC1 debate, hosted by David Dimbleby at 8pm tonight, is the second TV showdown of the campaign, following an ITV broadcast on May 2, also featuring Cameron and Clegg, from which no clear winner emerged.
Greg Hands, the Conservative deputy chief whip said tonight's debate was "a chance to see the alternative to a strong government under Cameron: a Frankenstein coalition under Miliband."
Today Labour released a new campaign video attacking Cameron's record in government and accusing him of being too scared to defend it.