Ed Miliband and Nicola Sturgeon lambasted David Cameron on Thursday for failing to take part in the second televised leaders' debate of the General Election campaign. With the PM in Downing Street watching the debate on TV, the Labour leader accused Cameron of choosing "not to defend his record", while the SNP leader Nicola Sturgeon branded him a "disgrace".
Miliband was pitted against four other opposition leaders in a live 90-minute "challengers' debate" on BBC1, in a format devised after Cameron refused to take part in the three clashes originally proposed by broadcasters, which would have seen him take on the Labour chief in a one-on-one showdown a week before the vote.
Still, Cameron's attack dogs were out in force, with several senior Conservatives in attendance to spin to the media, including environment secretary Liz Truss.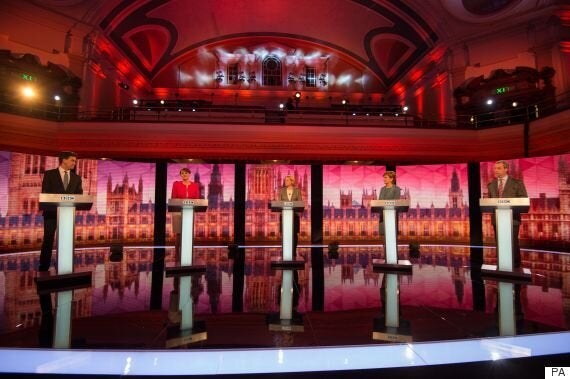 (Left - right) Labour Party leader Ed Miiband, Plaid Cymru Party leader Leanne Wood, Green Party leader Natalie Bennett, Scottish National Party leader Nicola Sturgeon and Ukip leader Nigel Farage during the BBC Challengers' Election Debate 2015
Miliband said he will "reject" the arguments of parties trying to break up the United Kingdom, as both Scottish and Welsh nationalists used the event e to say they wanted to work together with other parties in Westminster to end austerity and introduce "progressive" policies.
Wonks were watching keenly for indications over which parties would be ready to work together in coalition or some other arrangement in the case of a hung Parliament. Condemning Cameron's decision not to debate, Miliband said: "David Cameron has chosen not to come tonight. He has chosen not to defend his record. I believe that Britain can do so much better."
As the five leaders made opening statements, Ukip leader Nigel Farage said: "I have a feeling that I am the only person here saying what a lot of you people at home are really thinking." The Ukip leader accused the other parties of throwing spending promises worth billions of pounds "like confetti" during the campaign, and said only Ukip could afford its promises by cutting overseas aid and ending contributions to the EU. "Let's take back control of our country, let's take back control of our borders," said Mr Farage, who also said he would take on "corporate giants who have driven down salaries and made life difficult for small businesses".
Sturgeon said that, so long as Scotland was part of the UK, the SNP would "work constructively" with other parties in Westminster to deliver "progressive change for people across the UK". She said: "The SNP will work with people of like mind to bring about real change," she said. "The SNP will always make Scotland's voice heard, but we will work for new better, progressive politics for everyone."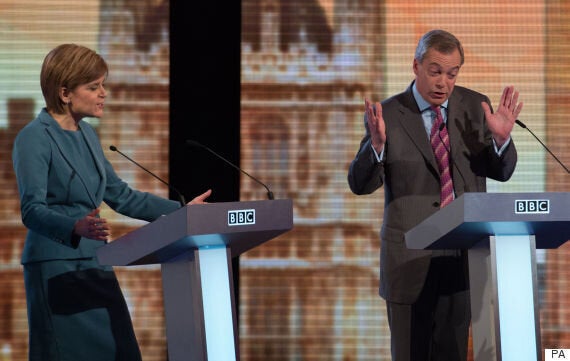 Scottish National Party leader Nicola Sturgeon (left) and Ukip leader Nigel Farage during the BBC Challengers' Election Debate 2015 at Central Hall Westminster, London
Plaid Cymru leader Leanne Wood said: "Our MPs will work with progressives from other parties to deliver prosperity, investment, job creation, public services and strong communities." Wood said that voters were "seeing through the austerity myth", adding: "Cuts are a choice. Austerity and the old politics are not inevitable."
Miliband said that "we need to change our country", but cautioned that he would reject arguments that would lead to the UK being broken up. He said: "I am going to reject ideas you will hear tonight that will hurt working families, like taking Britain out of the EU or breaking up our United Kingdom. I will always put working families first because that's the way that we succeed as a country."
Green leader Natalie Bennett said: "The Green Party are the real challengers offering a million new jobs, combating climate change, protecting vital community services. Challenge the establishment. Vote Green."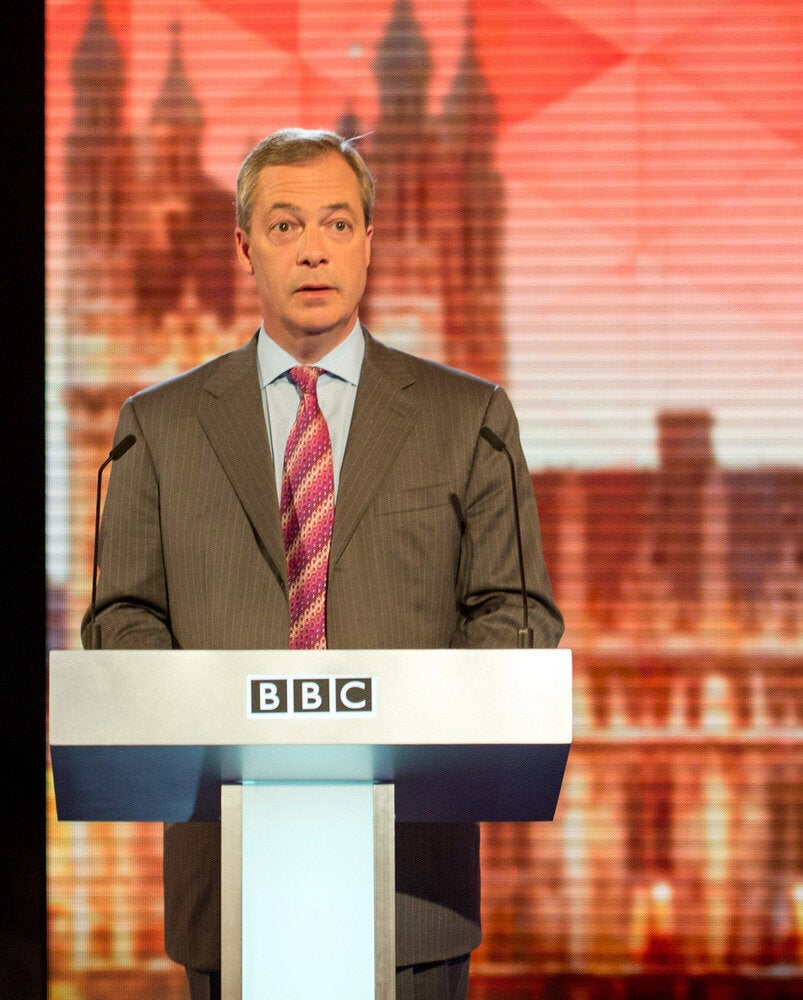 BBC Election Debate 2015