The former head of NHS England has cast serious doubt on Tory and Liberal Democrat plans to fund the health service, warning there is a "financial hole" in the health service.
Sir David Nicholson said the so-called "Stevens plan" both parties have signed up to, which involves the government injecting £8 billion cash into the NHS while gaining £22 billion from efficiency savings, will be difficult to implement.
Labour is the only main party which has not signed up to the five-year plan drawn up by current NHS England chief executive Simon Stevens, instead favouring a £2.5 billion Time to Care fund paid for by a mansion tax and tobacco levies.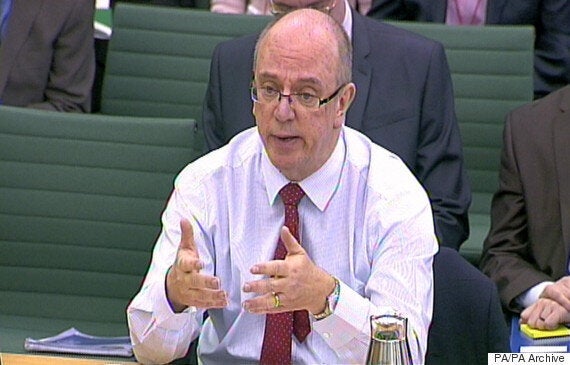 Sir David Nicholson gives evidence to a House of Commons Health Select Committee on the report into serious failings at Mid Staffordshire NHS Foundation Trust
Sir David claimed managers would find it difficult to deliver the savings set out by Mr Stevens and warned that responsibility for funding the health service would end up being shifted from politicians to those managers, who will be blamed for any resulting problems.
Sir David told BBC Radio 4's Today programme: "What the public is being told at the moment is that 'we'll give you a bit of extra money and everything will be fine' and that actually these managers can deliver £22 billion and then everything will be fine.
"So in a sense if they find it difficult to do that and I think most of them will, I think they are going to be blamed.
"So I think there's a real danger here about shifting the responsibility for the total funding of the NHS from politicians whose responsibility it is to deliver the total amount of money for the NHS to the people who are trying to make the best of that resource in the service as a whole."
His comments, coming as the NHS boss who was in post during the scandal at Mid-Staffordshire hospital, got a mixed reaction on social media.
Sir David also warned there is a "financial hole" in the NHS which will mean the next government will have to suspend its ambitions about extra services and investment to deal with operational problems.
He told the programme: "I have not heard in most of the conversations politicians are having at the moment about what they're going to do about that financial hole.
"They want to talk about extra services and extra investment when actually there is a problem there to face."
Sir David also called on Labour to commit to the £8 billion investment and called on the next government to make the money available straight away rather than spread it out of the course of the next parliament.
He said: "A precondition to be able to deliver the efficiency gain is for the investment up front, the £8 billion people talk about, although there is a view about whether that is actually enough or not.
"That £8 billion needs to be frontloaded, it needs to be available in 2015/16, 2016/17."
On Labour, he said: "They haven't said the £8 billion. I think it would be helpful for the NHS if they did, then it would be clear."
The Health Foundation said NHS finances are "dire" and described the £22 billion to be found in efficiency savings as "unprecedented", but endorsed the Stevens plan backed by the Tories and Lib Dems with £8 billion investment as "the right plan".
The charity's chief economist Anita Charlesworth told the programme: "(Sir David) is right about the short-term - NHS finances can only be described as dire at the moment - three-quarters of our hospitals can't balance their books and at the turn of the year they were running a deficit of over £900 million.
"The outlook in the medium term is also really challenging, (it) needs extra funding each and every year rising to £8 billion by the end of the parliament.
"To make that money cover all of our needs it also needs to deliver unprecedented efficiency savings of around £22 billion."
She went on: "I think everyone believes that the plan of £8 billion extra funding and a real push to unlock those productivity savings, it's the right plan.
"But for the NHS to do that, it needs stability, it needs no reorganisation or upheaval, and it needs a really clear focus on that challenge."
Liberal Democrat leader Nick Clegg agreed that the NHS was under "unprecedented pressure", with an ageing population and increased use of A&E and ambulance services.
He told BBC1's Breakfast: "The NHS does need more money. It's David Nicholson's successor, Simon Stevens, who identified this number of £8 billion by the end of this parliament, and he and David Nicholson are quite right to expect political parties to explain how they are going to come up with that money.
"The Liberal Democrats have come up with a plan about how you produce the £8 billion, which does include changes to capital gains tax which will affect the richest. Is it a challenge? Of course it is, and he is quite right to say that it is."
Clegg added: "He was saying that the £8 billion has to be accompanied by a lot of efficiency savings and reforms, as advocated by his own successor, Simon Stevens. Of course that's going to be challenging. I think everybody accepts that."