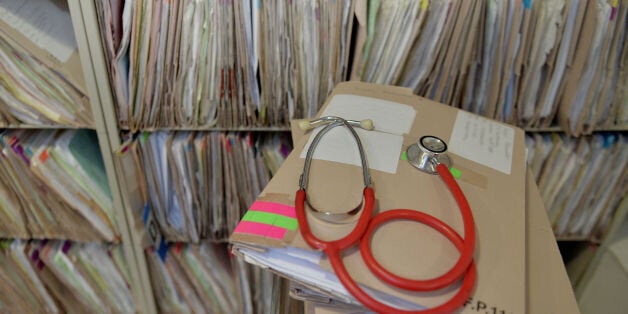 Doctors who graduated last year will have amassed debts of more than £82,000 and are unlikely to be able to pay back their student loans, according to research.
Annual tuition fees cost £9,000 for English students at UK universities and most medical degrees take five years.
A study in the British Medical Journal found that once loans for living costs are factored in, medical graduates are unlikely to be able to repay their debt in full before it is written off after 30 years.
The research, led by the University of Birmingham, also found that although male and female graduate salaries were initially similar, male doctors earned up to 35% more than females by the age of 55. This was mainly due to differences in hourly wage rates rather than the number of hours worked.
It found that initial graduate debt from tuition fees alone amounts to just under £40,000, but owing to interest charges the average full-time male graduate repays £57,300 over 20 years, while the average female earns less and repays £61,800 over 26 years.
For graduates with initial debt above £50,000, male graduates typically repay more because their average yearly salaries are higher.
As well as providing tuition fees, the Student Loans Company (SLC) offers a separate maintenance loan to cover students' housing costs and food, with repayments for both based on 9% of salary above £21,000.
Researchers estimated that once maintenance loans are factored in, this would add £24,000 for a student living at home, £30,000 for a student living away from home, and £42,000 for a student living away from home in London - amounting to a total of £64,000 to £82,000 by the time of graduation.
After using the average age-salary profiles, projected future repayments, and cumulative debt levels to calculate the total sums required to service the loans, they found that for full-time female graduates, the maximum total repayment is just under £75,800 for any initial debt above £46,000.
For full-time male graduates, the maximum repayment would be £110,600 for any initial debt above £65,100.
The study described student debt as a "particularly emotive issue".
"Gender differences in medical salaries highlight an inconsistent relationship between salaries and total repayments of debt," the authors added.
"It seems reasonable that these repayment variations may actually exist across many graduate careers in the UK. It is also apparent that at the current level of fees, even small changes in the student loan contract will have substantial implications for lifetime wealth across different income groups, across male and female graduates, and on the sustainability of the student loans system."