Russell Brand's charisma is a unique quality that transcends economic barriers, according to the director of his new film 'The Emperor's New Clothes', a documentary about the social inequalities of our nation.
"When we were filming in the banks, even the city workers would come up and ask for a hug," laughs Michael. "These were the people we were railing against in the film, but they didn't seem to mind. Russell has a strange attraction that crosses over these boundaries."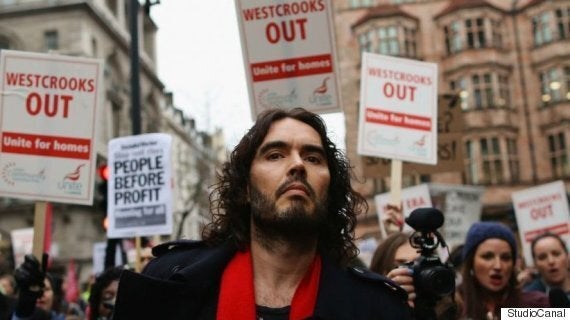 Russell Brand on the protest trail
Michael also says that, far from Russell being a hypocrite to talk about inequality when he himself lives a millionaire lifestyle, the comedian turned activist is actually the perfect person for the job.
"Our film is asking, is change possible?" he says. "And Russell knows change can happen from a social point of view because of what's happened in his life.
"People do change radically. We have this idea of social mobility. It's not a good thing to think you're stuck somehow. And Russell's a perfect example of that."
Furthermore, Michael thinks people don't realise how much work Russell puts in behind the scenes to walk the walk of the topics he discusses with such vigour during interviews with Jeremy Paxman, on the panel of Question Time and in his recent tome.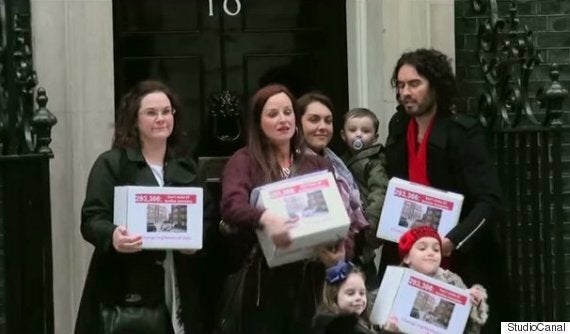 Russell Brand joins campaigners in Downing Street
"I'd been aware of bits and pieces of his attitude," says Michael, "but I had no idea how much time he dedicates to it. I think people would be very surprised."
The film moves from Russell's home town of Grays in Essex, to London's City and then onto New York, including a dramatic moment when the comedian doorsteps the Daily Mail's owner Lord Rothermere over his non-domiciled tax status. While Michael Winterbottom doesn't believe the film will kickstart the revolution envisaged by Russell in his recent book, he does want it to make people angry…
"We're not saying anything new, it's not some secret scandal, and it's not some new analysis.
"It's obvious and simple. The wealth has been transferred to the richest 1%, and we're asking why we as a nation let the bankers get away with it. People know it's their fault, but you can't say the same thing over and over again, so we have to find new ways of making people look at this afresh."
What about voting in this election – does Michael Winterbottom agree with Russell's plea not to vote? The director is diplomatic.
"There are lots of ludicrous things about Westminster, and I completely sympathise with Russell's decision. I can see how he got there.
"I personally am going to vote – for something vaguely progressive, for anything but the Tories."
'The Emperor's New Clothes' will be show in special screenings nationwide tonight, Tuesday 21 April, followed by a Q&A session with Russell Brand. The film will be in select cinemas from 24 April. Click here for ticket info. Watch the trailer below...