We all love a game of 'Guess Who' - particularly gazing at Maria in her sassy green beret - but James Corden has proved that it's even more fun when you cast the board game aside and take it on with real people.
Along with special guests Rosario Dawson, Tony Hale and the ever-fabulous Sharon Osbourne, they split up into two teams to try and guess which audience member the other couple had picked.
Our favourite part of the game was one audience member who looked like he was ready for the ground to open up and swallow him whole, after Sharon declared: "I think it's him because he's shiny!"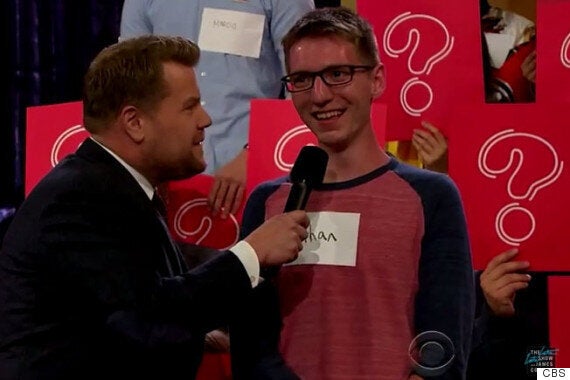 James puts one embarrassed audience member on the spot
Thanks to 'The X Factor', we've all seen just how competitive Sharon can be, and this was clearly still the case, after she and James were visibly furious to have lost out to their rivals.
After an incorrect guess, she shouted: "I hate when that happens! Really! We don't like to be f***ed with!"
Let's hope this is the start of some beautiful board game adaptations over at 'The Late Late Show', and soon we can enjoy Taylor Swift playing a life-sized version of Ker-Plunk, or Ed Sheeran taking on Chris Pratt at Hungry Hippos.