Boris Johnson has said it would be a "wonderful thing" to be leader of the Conservative Party - after much prodding from Sky News' Kay Burley.
The London mayor, who is seeking a return to parliament as an MP on May 7, is widely seen as a likely successor to David Cameron. The prime minister even took the unusual step of naming Boris as a potential future leader.
Appearing on Sky News today, Boris repeatedly tried to dodge Burley's questions about his leadership ambitions. But she finally, as detailed below, got him to concede he would quite like the job.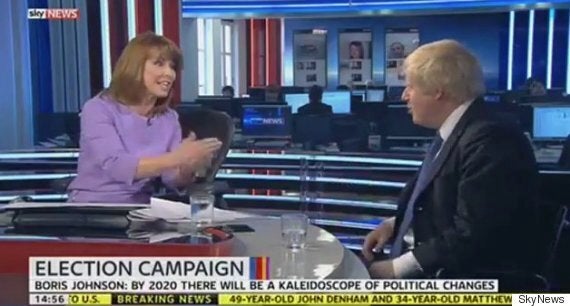 Kay Burley: "If and when we see a Conservative government and Mr Cameron decides not to run in 2020, would you like to be prime minister?"

Boris Johnson: "The answer is by 2020 I will be, I hope I will still be alive and still in parliament. But the kaleidoscope of politics will have changed, rotated."

Burley: "Would you like to be leader of the Conservative Party?"

Boris: "I would like David Cameron to be lead us to victory in two weeks time. Don't rule out the possibility of a very considerable Conservative success on May 7."

Burley: "Yes. You would like to potentially be considered as the leader of Conservative Party when Mr Cameron is no longer there? Yes or no?"

Boris: "It's not something that is top of my agenda now. Top of my agenda now is get David Cameron elected."

Burley: "You're not saying no."

Boris: "That is at least five years away... whatever my personal ambitions there will be thrusting young men and women overtaking me. The priority is to have a successful election on May 7."

Burley: "You want to be Conservative leader and you have so much flare about you. But when you are nailed down you won't say 'Yes, I would like it when Cameron's not there'. People are groaning my ear in the gallery, 'answer the question', is what they are saying."

Boris: "In the dim distant future, obviously it would be a wonderful thing to be thought to be in a position to be considered for such an honour."