Rescue efforts in Nepal are intensifying as volunteers and experts rush to help in the wake of the death and destruction caused by the earthquake and an aftershock.
More than 1,900 people were killed after the 7.8 magnitude quake struck just before midday on Saturday, sending tremors through the Kathmandu Valley and the nearby city of Pokhara.
The majority of deaths were reported in Nepal, with deaths also being confirmed in India, Tibet, Bangladesh and the Nepal-China border.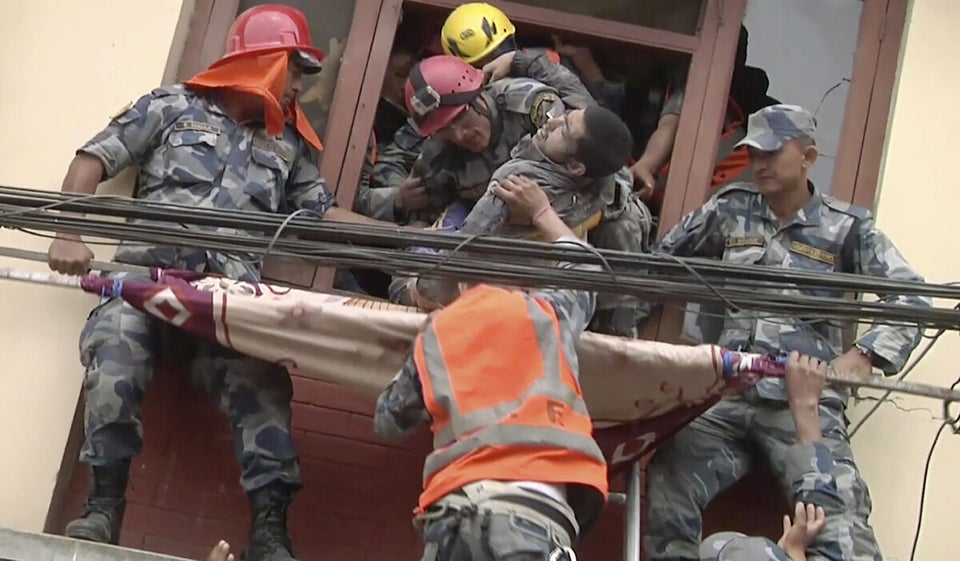 Nepal Earthquake 2015
The UK has deployed an eight-strong team to provide urgent humanitarian support for those affected by the disaster.
Experts in search and rescue are travelling to Nepal overnight and will begin work assessing the scale of damage, and helping local authorities to direct the response.
About an hour after the initial quake, a magnitude 6.6 aftershock hit and smaller aftershocks could be felt through the region for hours.
A magnitude 6.7 aftershock struck on Sunday morning, adding to the massive task that rescue workers are now faced with.
Mountaineering guide Ang Tshering said an avalanche swept the face of Mount Everest after the earthquake and government officials said at least 17 people were dead and 61 injured.
Several Britons are among those stranded on the world's highest peak, with access to its base camp cut off.
Among them is Daniel Mazur, a Summit Climb expedition leader from Bristol, who tweeted:
Sheffield-based travel firm Jagged Globe said it had yet to hear from several teams in Nepal, including British tourists set to climb mountains in the Himalayas.
They said in a statement: "We have received some information from Nepal. We have two teams in Kathmandu.
"They are our Mera Peak Expedition that left the UK on 3 April and our Annapurna Circuit team that started on 9 April. Members of these teams are safe in the Summit Hotel, Kathmandu."
"We are still awaiting status reports from our Mera and Island Peak team, who were due to climb Mera Peak today. Also from Dhaulagiri Circuit and Dhaulagiri Circuit (Eldor), who were scheduled to walk to Solgari today."
A number of other Britons have also not been heard from since the quake struck.
The database includes Sebastian Lovera, a 22-year-old qualified skiing and diving instructor, from Tonbridge, Kent.
His last known location was Khumjung on Tuesday, from where he was heading towards Everest Base Camp.
His stepfather, Greg Smye-Rumsby, said: "Sebastian is an extremely lively and self-motivating person and that is why he went to Nepal.
"We haven't heard from him. He would not have switched his phone off. We have tried ringing it. Sometimes it rings and sometimes we get an answer but it's an automated answer. It says the phone is switched off.
"He's certainly not a person to take risks. He's the absolute opposite."
Mr Lovera is described as being around 5ft 8ins, with dark blond/light brown hair and very fit. He has a red Black Diamond down jacket and brown Karrimor walking boots with a hole in the left boot.
Another Briton believed to be missing is Laura Wood, 23, from Huddersfield, West Yorkshire.
She is described by a friend as a "glowing lovely beautiful young girl often dressed in hippy type clothing". Miss Wood has been trekking in the Himalayas without any means of making contact.
John Carroll, 59, listed his daughter Julia Carroll, 22, from Boxford, Suffolk, on the website with her location "unspecified", describing her as 5ft 8ins, and slim, with long brown hair and brown eyes.
He told the Sunday Telegraph: "I spoke to her on the phone on Friday afternoon when she rang home to wish me a happy birthday. We are desperately worried.
"It's a tragic situation out there, with so many deaths and so much destruction and we can only hope she is safe and gets in touch."
Those in the Nepal described the impact of the quake.
Tanya Barron, chief executive of Plan International UK, who is on a scheduled visit, said she was on the top floor of a building when it started to "shake violently".
Sarah Blin, Handicap International's programme director in Nepal said that people rushed outdoors after the quake, and described hospitals as being overwhelmed and short of supplies.
Oxfam is also lending its support to the rescue effort with teams in Nepal already assessing the humanitarian need and a team of technical experts preparing to fly from the UK with supplies to provide clean water, sanitation and emergency food supplies.
Christian Aid has made an initial £50,000 available to help victims and the British Red Cross has launched an emergency appeal.
A team of 14 volunteer rescuers from UK charity Search and Rescue Assistance in Disasters are set to fly out to Kathmandu today, taking with them 1.5 tonnes of specialist equipment to help them rescue people in collapsed buildings.