An "official website" is continuing to proclaim a politician as the "mayor" of a London borough - days after he was barred from office.
Lutfur Rahman was ordered to stand down as the directly-elected mayor of Tower Hamlets on Thursday after a judge concluded that he was guilty of corrupt and illegal practices.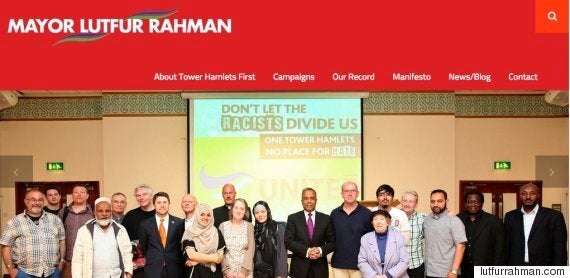 The website carries a statement from Rahman telling of his "shock" at the judge's decision, gives the mayor's office number in a "contact the mayor" section, has a "message the mayor" form and detail of the "mayor's" weekly surgery.
A message says the website is "promoted and published" by Mr Rahman's former election agent - and former Tower Hamlets councillor - Alibor Choudhury. He has also been barred from office.
A Tower Hamlets council spokesman today said efforts were being made to "take down" the website.
Four voters took High Court action in a bid to oust Rahman.
"I guess the website is outside the direct control of the council," said Andy Erlam, who led the group and wants to be the next mayor of Tower Hamlets. "But it's embarrassing to say the least."
Tower Hamlets Council says a new mayoral election will be held on June 11.
Officials say deputy mayor Oliur Rahman is acting as "executive mayor" in the interim.
Election Commissioner Richard Mawrey, who sat as a judge at an Election Court trial in London, ruled that Rahman would be barred from running for office for five years and said the 2014 Tower Hamlets mayor election would have to be re-run.
He said Choudhury would also be banned from running for office for five years.
Both had denied wrongdoing.