Rescuers are in a "race against time" to save people stranded after the Nepal earthquake, one of those who is trapped has said.
James Grieve, a 52-year-old British climber stranded on Everest after earthquake-triggered avalanches, told The Sun over a satellite phone from Camp One that the rescue effort was being hampered by storms and supplies would last only a few more days.
Climbers, including several Britons, have been cut off from the mountain's base camp, which was devastated by the initial quake and Sunday's large aftershock.
Nepal's mountaineering department said at least 18 people had been killed and 61 were injured in the avalanche, while an unknown number were still missing.
The overall death toll of the quake stands at more than 3,000.
Grieve, of Kinross, told The Sun: "Everyone is apprehensive about what's happening and what will happen in the next 24 hours. We have a few days of food and drink left. Our tents have all been lost and we have around 18 dead bodies at base camp.
"Rescue teams are struggling to get us help due to the weather and the next few days' forecasts are not great. There is a lot of confusion in the cap and there are still about 120 of us here waiting to be rescued.
"We are in a race against time to get off the mountain."
He estimated up to 50 people had been killed and said there was a plan for helicopters to rescue them today, although "the choppers are only taking two people off at a time".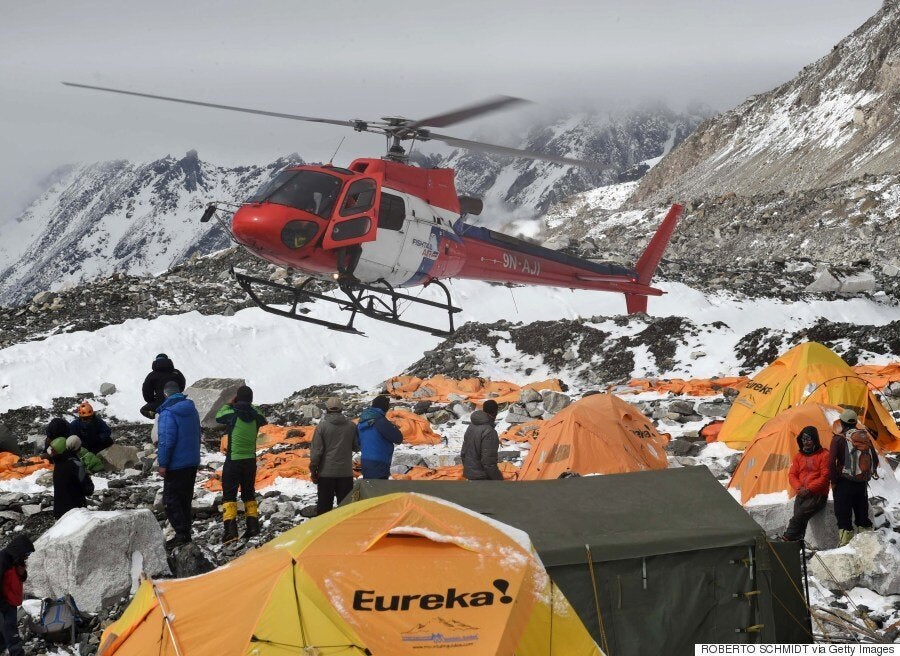 A rescue helicopter prepares to land and airlift the injured from Everest Base Camp on Sunday
He said he believed it could be Wednesday when they would be brought to safety but warned a metre of snow was forecast which could set search teams back.
The paper said he was in a party with fellow British climbers Alex Staniforth, 19, of Chester, expedition leader Daniel Mazur, from Bristol and Sam and Alex Chappatte, from London.
Staniforth's UK-based support team tweeted the difficulty caused by the weather.
After the 6.7-magnitude aftershock, Mazur tweeted: "Aftershock @ 1pm! Horrible here in camp 1. Avalanches on 3 sides. C1 a tiny island. We worry about icefall team below.. Alive?"
He later said helicopter had began rescuing people, but only two at a time.
Writing on Facebook this morning, Mazur said he had arrived back at "the relative safety and comfort of Base Camp", adding: "It is very sad to hear the continuing tragic news and of loss of life both on the South Side of Everest, in Kathmandu and the rest of Nepal. Our thoughts go out the families of all those affected."
This a full list of British and Irish-born people believed to be missing in Nepal, compiled by the International Committee of the Red Cross (ICRC):

Abdulla Dahab, 20, London, Adam Powell, 45, Great Britain, Alex Murphy, 25, Dublin, Andrew Robertson, 56, England, Ann McNeil, 66, Sussex, Arron Conran, 22, Ireland, Ashrafe Sultana, 31, London, Brian Allen, 41, Edinburgh, Brian Monteith, 22, Glasgow, Callumn Shally, 21, England, Chloe Pincho, 27, England, Ciaran Sands, 55, Ireland, Cliodhna Cork, 21, Dublin, Daniel Thomas Hughes, 36, Wrexham, Darine Flanagan, 22, Galway, Darren Alexander Smith, 27, Edinburgh, Darren Russell, 26, Wrexham, Deniz Csern Oklavek, 48, Luton, Derek Waters, 56, Dartford, Emma Louise Waterton, 37, UK, Emmet Gallagher, 33, Dublin, Evan Mark Williams, 51, Wolverhampton, Fiona Lamont, 26, Staffordshire, Gary Williams, 52, Plymouth, George Richard Wilson, 69, Manchester,Hayley Saul, 32, Northampton, Heather Chan, 34, Dundee, Heather Stretton, 47, Louth, Lincolnshire, Helen Pounder, 21, Bishop Auckland, Huw Alexander Lashmar, 57, Wales, Ian Wainman, 42, Merseyside, Jack Kilpatrick, 24, England, Jack Young, 21, England, Jacqueline Bushe, 54, Donegal, Jacqueline Toal, 34, Glasgow, Janet Brownlie, 59, UK,, Jason Russell, 28 Wrexham, Jonathan Hikmet, 25, UK, Jonathan William Blott, 24, UK, Joseph Ire Sieder, 45, London, Karl Townsend, 43, Liverpool, Kathleen R Fellows, 70, England, Keith Diplock, 71, East Sussex, Laurence Benjamin Gerhardt, 24, UK, Lloyd Davies, 22, UK, Lynda Davis, 50, Scotland, Madelana Ryan, 48, Dublin, Marilyn Ann Harnett, 65, Saffron Walden, Mark Ian Skenerton, 50, Chelmsford, Martin James Edmonds Gattuso, 38, Harborough Magna, Warwickshire, Martin Oppenheim, 65, England, Martin Thomas Donnelly, 34, Stockport, Mary Magdelina Claus, 64, Nuneaton, Matthew Caraport, 23, UK, Matthew David Spruell, 38, London, Matthew Thorne, 36, Stirling, Maurice Hanley, 54, England, Maxwell John Hynes Giusti, 45, London, Mike Russell, 42, Lancashire, Mitchell Carpenter, 23, Aberdeen, Monica Redenham, 63, London, Naomi Everett, 24, Manchester, Niall Kavanagh, 54, Dublin, Nicholas Cooney, 71, Drogheda, Norah Arscott, 77, Somerset, Oliver McKevitt, 24, Northern Ireland, Pat Loughran, 66, Dublin, Philip James Green, 30, London, Rachel McDonald, 26, Kent, Richard Jones, 59, Glasgow, Richard Bannister, 64, England, Ross Cameron Smith, 22, Dumfries, Ruth Millington, 25, UK, Samuel Beckett, 23, Portsmouth, Samuel Luke Bond, 28, Bath, Seobhan McGuigan, 41, Edinburgh, Shaun Bailey, 27, Stoke-on-Trent, Simon Charlesworth, 49, UK, Sinead Nic Cionna, 31, Monaghan, Sonia Downie, 50, London, Sophie Proffitt, 23, Oxford, Stephen Burke, 26, Ruislip, Su Browning, 62, Lambeth, Susan McDonald, 41, Dundee, Susannah Ross, 20, Bath, Terry Tremble, 56, England, Thomas Drumm, 55, Monaghan, Thomas William Southgate, 23, England, Tracy Ruth Powell, 45, UK, Victoria Barkas, 34, United Kingdom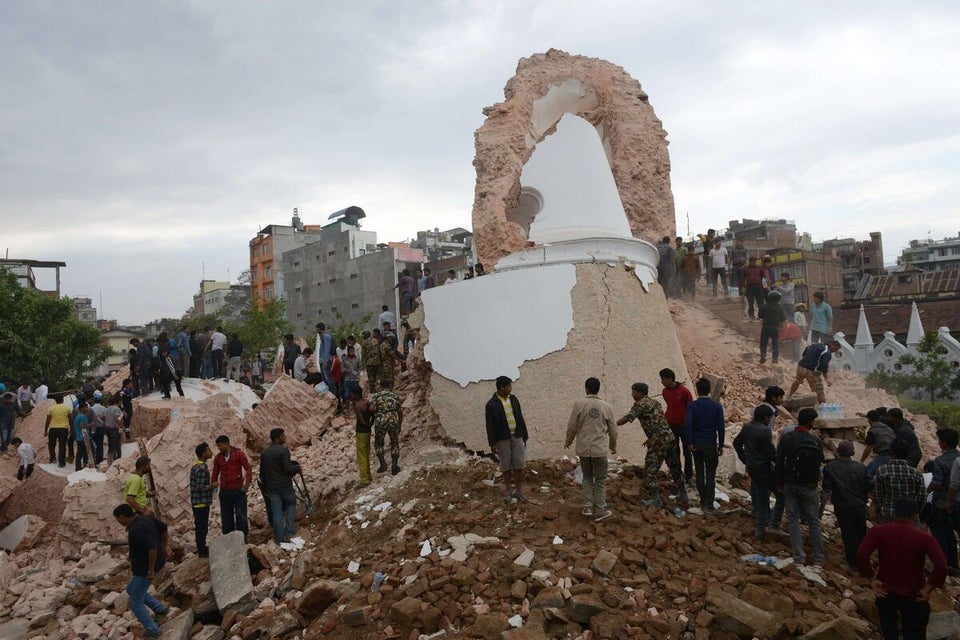 Nepal Struck By Powerful Earthquake