'Come Dine With Me Couples' made its return to our screens earlier this week, but it wasn't the food that left a lasting impression on the contestants, but the attire one of them wore to serve up their meal.
SEE MORE: 10 Things Come Dine With Me Has Taught Us About Dinner Parties
Martin and Amanda, a couple from Leeds, were so determined to pull out all the stops and impress their guests that he even surprised them by donning a lime green mankini while he served them their mains.
How very 2007 of you, Martin.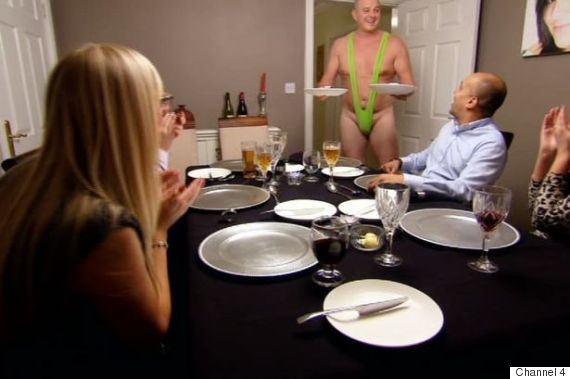 Martin in his mankini
While we must admit we don't know how happy we'd be staring at a relative stranger's bare behind as we asked them to pass us the salt, obviously their guests were impressed, awarding them with a very impressive 29 points.
We're just hoping this doesn't become a dinner party trend - and clearly we aren't the only ones...
Mankini Man has put me off MY blimmin dinner #SnugFit #ComeDineWithMe

— Cass Blakeman (@WistfulCass) April 27, 2015
Mankini, I've got even less respect for him than before now #comedinewithme

— Mark's Partying (@Petwill1) April 27, 2015
Stilts an a mankini..I dont think I can take anymore excitement..Gosh these are the craziest cats ever...NOT!! #couplescomedinewithme

— Shauny (@ShaunyboyCFC) April 27, 2015
If some middle aged man served me food in a mankini at a DINNER PARTY I'd be totally and utterly disgusted

— Hannah (@Iamhannahhhh) April 27, 2015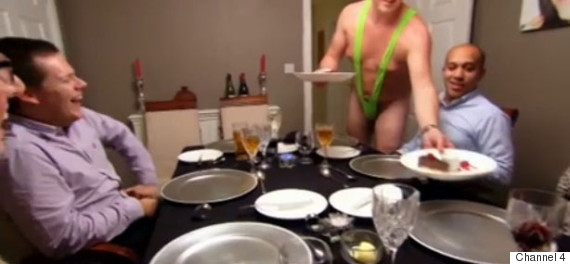 Martin's mankini got a mixed reaction
True, Martin may well have made it into the 'Come Dine With Me' hall of fame with his daring ensemble, but, for us, nothing will top Heather Horsfall's infamous rant last year, after she outed herself as the worst loser in 'CDWM' history.
After finishing in fourth place (of four people), she ranted: "My food was better than any of yours. My presentation was amazing. Far better than any of yours. And I came fourth?"
We can only imagine how she'd react to finishing behind someone who gave everyone an eyeful, and ripped off a film from nearly a decade ago in the process...
LIKE US ON FACEBOOK | FOLLOW US ON TWITTER