Disneyland Paris is the place to be seen this year, with a host of celebs flocking there to soak up the magic and get that all-important selfie with Mickey and Minnie. Here are some of our favourite celebs we spotted recently enjoying some Disney magic.
Zayn Malik and Perrie Edwards
One Direction's Zayn Malik and fiancé Little Mix singer Perrie Edwards celebrated his 21st birthday at Disneyland Paris. Perrie returned again with a friend in January, and revealed she loves Disney so much she's even thinking about it as a wedding theme. "It would be amazing," she said. "I'm a big child. We are both big kids!"
Made in Chelsea star Louise Thompson cuddled up to Mickey Mouse before going for a spin on the teacups with a friend on her daytrip to the parks. She enjoyed Champagne on the Eurostar on the way home to London and tweeted: "Bubbles on the train laaaa deeee daaaa. I have Disney brain."
The Voice UK presenter Emma Willis and her hubby, McBusted star Matt Willis fell in love with the new ride Ratatouille: The Adventure on their trip to Disneyland Paris last summer, with the rest of McBusted in tow, including Danny Jones and his wife Georgia Horsley.
Matt Willis, Danny Jones and Tom Fletcher of McBusted performed some rather spectacular jumps in front of Sleeping Beauty's castle. Even Mickey Mouse was impressed!
Andrew Garfield and Emma Stone
Spider Man star Andrew Garfield and his girlfriend actress Emma Stone held hands as they strolled around in the afternoon sunshine at Disneyland Paris last spring.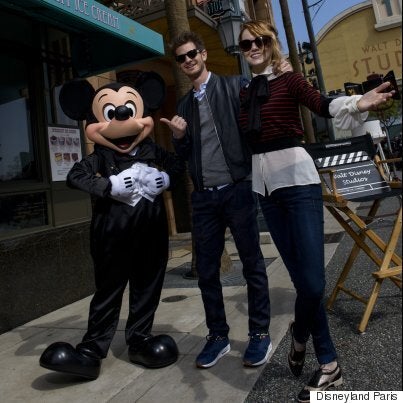 Former TOWIE star Sam Faiers cuddled up to Minnie Mouse on her visit to Disneyland Paris last summer. In fact her nickname is 'mouse' and her boutique in Essex is called Minnie. Sam also celebrated her 23rd birthday at Disneyland Paris.
The Saturdays have been to Disneyland Paris several times over the past few years and one their favourite rides is 'It's a Small World'. "When we went on that it was like, ah, it's so cute," Frankie said on one visit. "It's kind of one of the rides you have to do when you come here."
Pixie Lott and boyfriend Oliver Cheshire regularly visit Disneyland Paris for short breaks and day trips, and Pixie always gets in the spirit of the parks by donning a pair of mouse ears.
Spice Girl and Heart Breakfast presenter Emma Bunton loves Disneyland Paris and often goes there for the day. "It's so much fun," she says.
Former England Rugby star and Strictly Come Dancing finalist Ben Cohen, MBE couldn't resist holding hands with Minnie Mouse on his trip to Disneyland Paris and even demonstrated some of his Strictly dance moves, much to Minnie's (and our) delight.