The woman whose confession saved a Filipino mother-of-two from the firing squad just hours before her life was to be ended, along with the Bali Nine masterminds and six others, has been pictured for the first time - and the woman whose reprieve she helped secure, may soon put her behind bars.
Maria Kristina Sergio, the alleged recruiter of Indonesia death row defier Mary Jane Veloso, voluntarily surrendered to police on Tuesday after claiming to have received death threats via social media. She then met with government officials at the Phillippine National Police in Camp Crame on Wednesday, reportedly just six hours before the firing squad delivered their fatal punishments.
Sergio allegedly told police she tricked Veloso into becoming a drug mule and sought protection. She had hired Veloso as a domestic worker in Malaysia before giving her a bag to transport to Indonesia with 2.6kg of heroin sewn into the sides.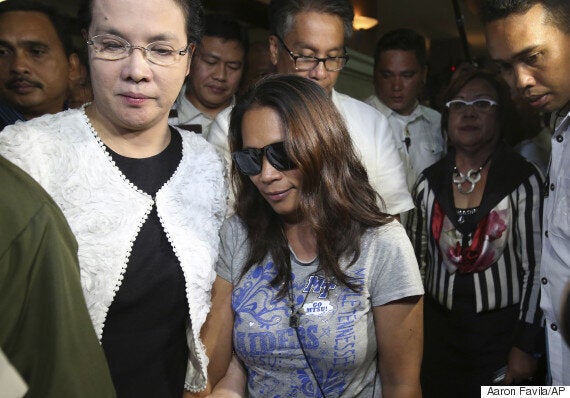 Maria Kristina Sergio, center, the alleged recruiter of convicted Filipino drug trafficker Mary Jane Veloso is escorted after a press conference by Philippine officials
Veloso's tale - a humble housemaid, unfortunately named Mary Jane (a common term for cannabis), supposedly tricked into becoming a drug smuggler, then saved from death at the last minute, to perhaps become a star witness against the woman whose actions allegedly almost killed her, is the latest to unravel in a story that's full of sad irony. One of her fellow inmates, Brazilian Rodrigo Gularte, was a schizophrenic who had no idea he was about to be killed. And Andrew Chan and Myuran Sukumaran, went from Bali Nine drug villains to be lauded for their bravery and spirit, defiantly uniting the death-party in a chorus of Amazing Grace as their lives were ended.
Sergio and her partner, Julius Lacanilao, were said to have arrived at the police headquarters at 5.30pm Wednesday and met with the officer-in-charge, deputy director general Leonardo Espina. The meeting began a chain-of-events that led to Veloso being temporarily pardoned.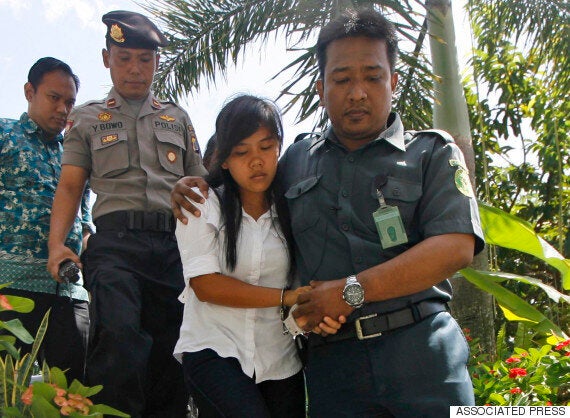 Veloso, pictured above in March, was escorted from her cell between 10-11pm; her fellow inmates who she was to face the firing squad with were killed at 12.35am
Aquino said he presented a case to Indonesia that it was in "both of our interest to keep her alive to be able to testify".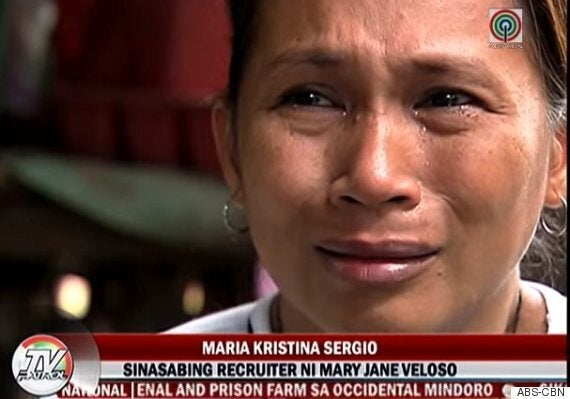 Sergio during a tearful appearance on ABS-CBN TV, where she spoke about Veloso
Veloso, who had tearfully farewelled her children, aged six and 12, just hours earlier, was said to have been removed from her prison cell between 10-11pm - some five hours after Sergio's meeting. The eight other inmates she was meant to be executed alongside were shot at 12.35am, and are thought to have been unaware she had been spared, only realising when they were strapped in to their death-crosses that acted as a target for the firing squad.
Veloso's family was also unaware. They began mourning her death, as the front pages of Filipino newspapers carried her image in remembrance.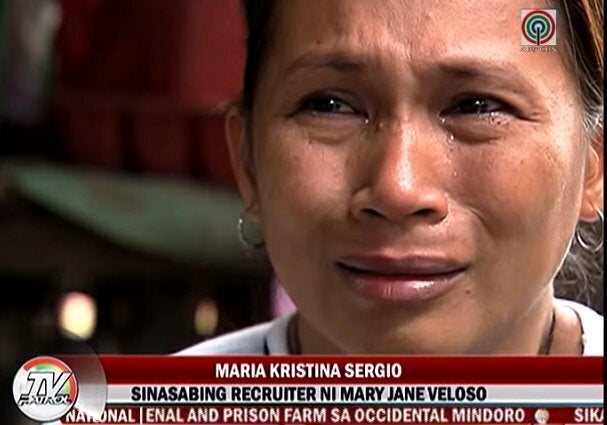 Mary Jane Veloso saved from firing squad
According to reports, the Justice Department has recommended that Sergio, Lacanilao, and an African man so far only identified as "Ike", be charged for illegal recruitment, fraud, and human trafficking in connection with Veloso's case.
The Justice Department has set a preliminary investigation into Veloso's case to begin next week.