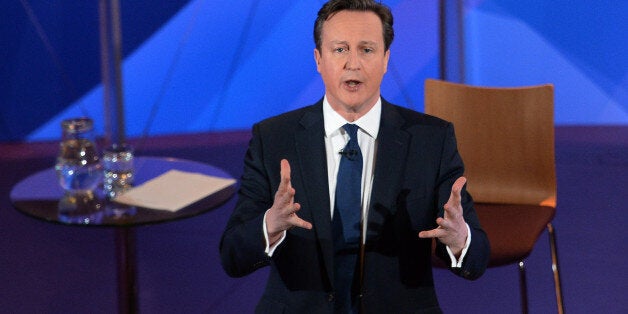 David Cameron, Ed Miliband and Nick Clegg all came under pressure from an unimpressed Question Time audience on Thursday evening - as the three leaders made their final set-piece pitch to voters before next week's election.
Over the course of 90 minutes, the three men were accused variously of failing to treat the public with respect, of "lying" and of simply being wrong.
An ICM poll for The Guardian released immediately after the programme ended found that Cameron was seen to have won by 44% of viewers. Miliband was given victory by 38% of those watching and Clegg trailed in third place on 19%.
The prime minister, who went first, was challenged over where he would find the extra spending cuts he has planned. "I think you are either deceiving the British public or you know exactly what you are going to do but you are refusing to give specifics," one audience member asked bluntly. "How can I possibly vote for you on that basis?"
Cameron was also pressed over how he would pay for extra NHS spending as well as his failure to meet his 2010 pledge to cut immigration to below 100,000.
Miliband, second to face the studio in Leeds, was raked over the coals for the last Labour government's record on the economy. "Do you accept that when Labour was last in power it overspent?" he was asked. And the Labour leader was put under pressure by the infamous private note, brandished by Cameron earlier in the evening, left in the Treasury for the incoming coalition government that joked there was "no money left".
A businesswoman in the audience asked Miliband how Labour could be trusted with the economy when Ed Balls had described the note as "a joke", telling him that the shadow chancellor would have been sacked if he had made a similar comment in the private sector.
The Labour leader almost had an embarrassing end to his 30 minute grilling when he tripped off the debate stage.
Clegg, as expected, was given a tough time over the tuition fees debacle. The Lib Dem leader was told his U-turn had "destroyed your reputation". One audience member asked him: "Why would we ever believe anything else you say?" Another simply asked the deputy prime minister what plans he had to get a new job when he lost on May 7."Charming," Clegg replied.
The audience was widely praised by the commentariat from all perspectives, many of whom had expected it to go easy on the three leaders. Faisal Islam, the political editor of Sky News, observed: "They were roasted at times. They were getting punched."