The latest issue of an Austrian men's magazine is printed with ink containing HIV positive blood.
The special edition of Vangardist magazine is "dedicated to the fight against the stigma of HIV and AIDS".
"We believe that as a lifestyle magazine it is our responsibility to address the issues shaping society today," Julian Wiehl, Vangardist's CEO and publisher said in a statement.
"With 80% more confirmed cases of HIV being recorded in 2013 than 10 years previously, and an estimated 50% of HIV cases being detected late due to lack of testing caused by social stigma associated with the virus, this felt like a very relevant issue for us to focus on."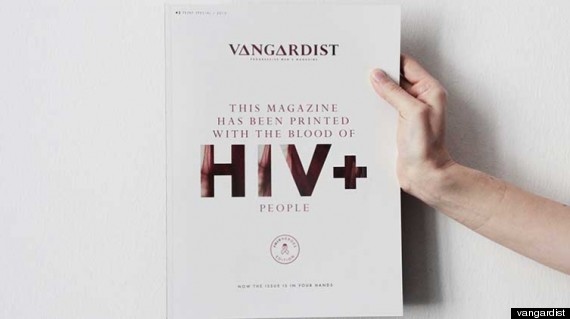 Blood used in the magazine was dedicated by three people who have been diagnosed as HIV positive: a 45-year-old woman, a 26-year-old gay man and a heterosexual man who chose to remain anonymous.
The ink was reportedly developed according to guidelines established by Harvard and Innsbruck University to ensure the magazines carry no risk of infection.
The magazine will come in a plastic cover as standard, but a statement on Vangardist's website assures readers the magazine is 100% safe to touch.
According to the NHS, HIV is a fragile virus that "does not survive outside the body for long".
The idea for the issue came from the advertising agency Saatchi & Saatchi.
Jason Romeyko, executive creative director of Saatchi & Saatchi Switzerland said: "With this unique project, we want to create a response in a heartbeat by transforming the media into the very root of the stigma itself - by printing every word, line, picture and page of the magazine with blood from HIV positive people.
"By holding the issue, readers are immediately breaking the taboo."
The special issue of Vangardist is available from 1 May and will be distributed in Austria, Germany and Switzerland.
H/T: The Telegraph
SEE ALSO:

HIV Home Test Kit Goes On Sale In The UK: 'This Product Will Empower People To Discreetly Test Themselves'

I Don't Care That You're Gay, HIV Positive and Hep C Positive: I Love You Anyway