James Corden is clearly a man of many talents, which he proved when he launched into a full-on musical number with 'Frozen' star Idina Menzel during a taping of 'The Late, Late Show'.
SEE MORE:
Wrapping up his interview with Idina, he admitted he'd thoroughly enjoyed their chat, before giving an impromptu rendition of 'I've Had The Time Of My Life' from the film 'Dirty Dancing'.
Grinning away, Broadway actress Idina was quick to join in the musical number as the audience got up on their feet and backing dancers arrived to give the performance that 'Dirty Dancing' feel.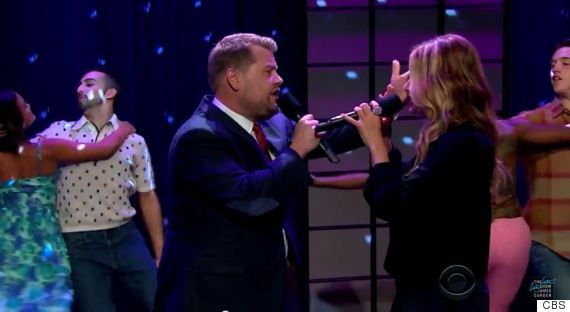 James Corden and Idina Menzel
Less impressed, though, was actor Kumail Nanjiani, who had also joined James for an interview, as he was forced to awkwardly sit while the performance went on around him.
Sadly, Idina and James's performance didn't include the signature 'Dirty Dancing' lift, but it was still a decent effort all the same.
Watch the video in full here:
This isn't the first time James has got musical during his time as host of 'The Late, Late Show', though, he also performed with 'Frozen' actor Josh Gad during a recent episode, not to mention having a sing-a-long in his car with both Jennifer Hudson and Mariah Carey.
He's no stranger to a musical number, though, having appeared as 'Britain's Got Talent' winner Paul Potts in the film 'One Chance', as well as a leading role in the recent musical 'Into The Woods', starring opposite Meryl Streep and Emily Blunt.
By the way… we just went the entire length of a news story about Idina Menzel without even alluding to that unfortunate time John Travolta called her 'Adele Dazeem' at the Oscars.
You know what that shows? Maturity.
Oh go on then, just once…
Stunning.
LIKE US ON FACEBOOK | FOLLOW US ON TWITTER