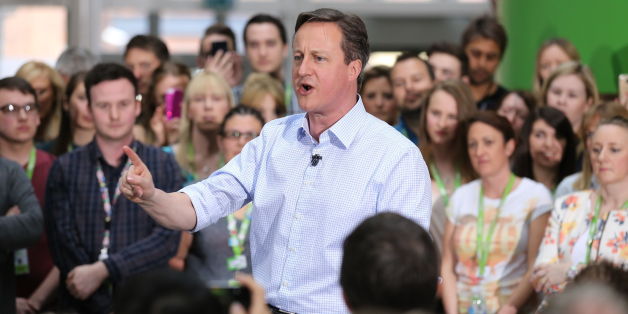 Chris Radburn/PA Wire
One thing is for sure, if David Cameron does not end up as prime minister after May 7 then his time is Conservative leader is over.
And while the prime minister probably knows this, he perhaps should not admit it in public. However during a Q&A with the public in Yorkshire this morning, Cameron accidentally called the election "career defining". He meant to say "country defining".
The prime minister had been attempting to warn voters that a Labour-SNP deal would damage the union, given Nicola Sturgeon's desire to see Scotland become independent.
"Whatever your views and whichever party you support, please make sure you do vote on May 7," Cameron said. "This is a real career-defining... country-defining election that we face now in less than a week's time."
The slip was immediately, and gleefully, seized upon by Labour. Ed Miliband said the slip showed that for Cameron "this election is all about him" whereas the prime minister sees "his CV on the ballot paper" Miliband saw "child benefit".
And the Labour leader's American adviser and former Obama campaign chief David Axelrod tweeted: "The PM's Freudian slip showing? In speaking 2 crowd, Cameron describes next week's vote as 'career defining', before subbing word 'country'."