Christian Bale and former world champion boxer Ricky Hatton joined a celebrity-studded crowd to see Floyd Mayweather claim victory over Manny Pacquiao in the "fight of the century".
The duo, dubbed the two best fighters of their generation, went head-to-head in front of fans including basketball player Michael Jordan, actor Bradley Cooper and singer Justin Bieber at the MGM Grand in Las Vegas.
The fight was expected to gross between 266 and 332 million dollars (£175 and £219 million) with both boxers lined up to earn millions.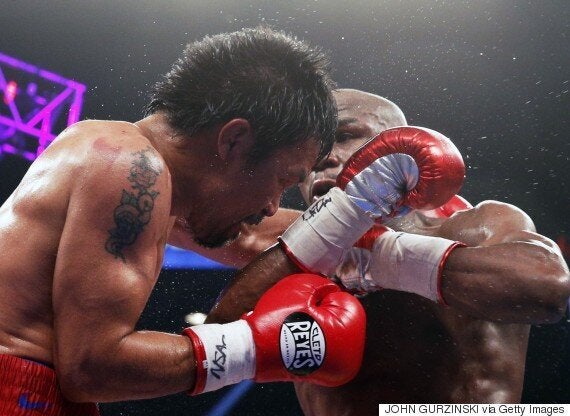 Floyd Mayweather Jr. (right) and Manny Pacquiao during their fight
The 500 tickets which went on general sale were sold out in under a minute, but many other fans are watching on pay-per-view.
Mayweather won by a unanimous points decision in their welterweight title clash.
The fight drew worldwide attention and, for its duration, dominated the conversation on social media.
Football pundit Gary Lineker, who had been eager to catch the fight after filming Match Of The Day, backed Mayweather and was delighted with the American's win.
Golfer Rory McIlroy had a ticket for the fight and a private jet waiting to take him to Vegas but missed it due to his WGC-Cadillac Match Play game with Paul Casey running on.
He told Sky Sports 4 earlier: "There are two tickets, one of which will be used by a good friend of mine, the other we will have to wait and see."
Queen's Park Rangers footballer Joey Barton told his followers he was relying on caffeine to keep him going for the early-morning fight.
But he seemed a bit disappointed with the fight.
Having backed Pacquiao to win he stuck with him, even in defeat.
"Manny still has one thing Floyd will never have. Class. Difference in both interviews at the end. 1 talking about boxing other about watches," he said.
Recently retired jockey AP McCoy joked that his new-found freedom had enabled him to see the whole fight through - but in the end made it clear he was not impressed.
"I wish I still had a job because if I did I wouldn't have been up all night watching that crap," he said.
Stoke City footballer Peter Crouch had earlier said he expected a Mayweather win, but declared his admiration for Pacquiao using a love-heart emoticon.