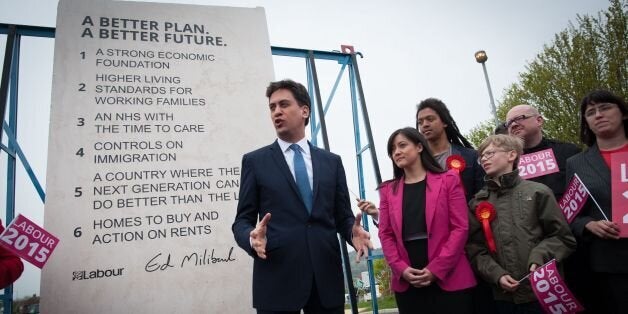 The vice chair of Labour's general election campaign has accused Conservatives of "deliberately" misquoting her, after she appeared to suggest the party would not keep its election pledges.
Speaking on BBC Radio 5 Live this morning, Lucy Powell was asked why Ed Miliband needed to literally carve Labour's election pledges in stone in order to make voters trust him.
"I don't think anyone is suggesting that the fact that he's carved them into stone means, you know, means that he will absolutely, you know, not going to break them or anything like that," she said.
Miliband said at the weekend Labour wanted the stone as a reminder to themselves and to the voters of what was in the manifesto if he wins power. It was suggested the stone could be installed in the Downing Street garden.
Powell's comment was immediately seized upon by Conservative Party chairman Grant Shapps, who said: "Labour knows Ed Miliband has no intention of keeping the promises he makes during the election campaign - his sums simply don't add up.
"£30,000 worth of limestone doesn't change the fact that Ed Miliband will say one thing and do another. Labour's campaign is crumbling thanks to Ed Miliband and bungling Lucy Powell - they're just not up to the job."
In the interview, Powell said Miliband "stands by his pledges and his promises". She added of the giant stone: "It was just another way of highlighting that, which is that he's a guy of principle, of decency, a guy who is tough and he is going to deliver on his promises he set out, unlike some of this opponents."
Following Conservative glee at her comments, Powell tweeted that she was saying the opposite of what was reported.