One of Bollywood's biggest movie stars, Salman Khan, has been jailed for five years for killing a homeless man in a hit-and-run more than 12 years ago.
Khan, who has appeared in more than 90 Hindi-language films, was convicted of culpable homicide along with negligent driving and causing grievous harm to victims. The sentences will be served concurrently.
The homeless man, Noor Ullah, 38, was among five men sleeping on the sidewalk that were stuck by Khan, who was under the influence of alcohol. Three other members of the group were seriously injured, and the fifth received minor injuries.
Indian television channels reported that the actor broke down in tears inside the court as the guilty verdict was announced.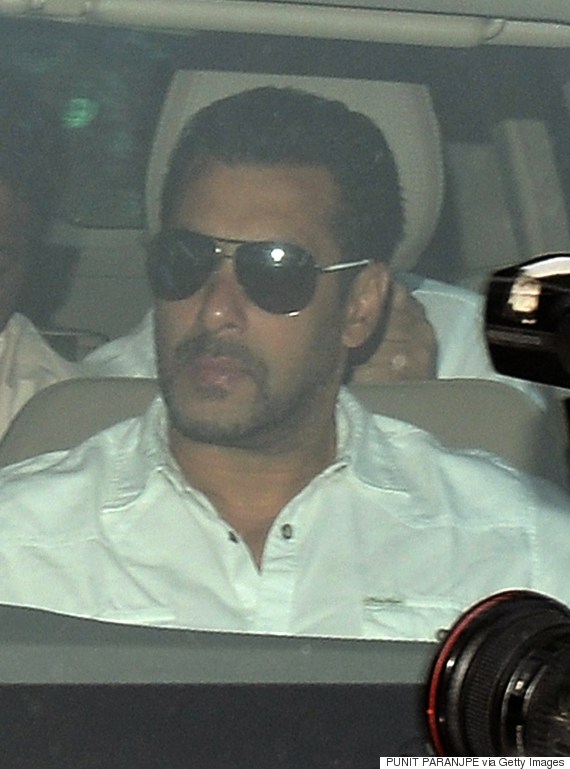 Salman Khan arrives at court before being jailed for five years over the hit-and-run death of a homeless man in 2002
The 49-year-old actor was due to begin his sentence in Mumbai late Wednesday, but his lawyer Srikant Shivade said he will file an appeal for bail.
The prosecution told Judge D. W. Deshpande that Khan was drunk when he rammed his SUV into the group of homeless men in September 2002.
Khan has always maintained he was not behind the wheel. In April, his driver Ashok Singh told the court that he was driving and lost control of the SUV when one of its tires burst.
Judge Deshpande dismissed the claim.
Story continues below
Indian media now report Singh may face a perjury charge.
Khan also faces trial in a separate case for allegedly killing two rare deer in a western India wildlife preserve 16 years ago.
He is one of Bollywood's most popular stars having been on the silver screen for 27 years.
Several of his films, including Dabangg, Ready, Bodyguard, Ek Tha Tiger, Maine Pyar Kiya and Hum Aap Ke Hain Kaun, have been huge commercial hits.
Huge crowds gathered outside Khan's home in south Mumbai for a glimpse of the star as he emerged from his apartment block surrounded by security guards, before the hearing.
Scores of television crews and reporters followed the actor's car and thronged the building as the court gave its verdict in a case that has been closely watched by millions of Khan's fans in India and abroad.
Khan began his career in 1988 playing a romantic action hero. He is also well-known as philanthropist and established a charitable trust called "Being Human," which works in education and health care for the poor.
Bollywood filmmakers were worried about the court case as Khan has several films in the pipeline.
SEE ALSO

Bollywood Actress Deepika Padukone Champions Women's Rights, Gets (Ironically) Attacked On Social Media

Gauhar Khan, Indian Actress And Model, Slapped For 'Wearing Short Dress'

Times Of India Brand Deepika Padukone A Hypocrite For Fighting Back Over 'Cleavage' Tweet
The Khan case has moved slowly through the Indian courts, gripping the nation like a Bollywood classic.
After running over the men in September 2002, Khan was charged the following month with culpable homicide. He was later released on bail, and in May 2003 unsuccessful asked the court to drop the charge against him.
A month later the Bombay high court dropped the charge but Khan was tried for negligent driving. In October 2007 the prime witness to the crash, a police constable who served on his security detail, died.
Then in March 2015, Khan told the court that it was his driver who was behind the wheel. The court rejected the claim and on Wednesday sentenced the actor to jail.