The World Snooker Championship finished only days ago, but it seems there could be a new contender in, erm, 15 years time.
Three-year-old Adam Wynne's snooker skills have gone viral after a video was uploaded of his insanely good potting skills on a snooker table, when he can barely see over the top.
The three minute video shows us a selection of his skills, from tricky shots to smooth line-ups. He knows his stuff.

The young Irish boy begins by squealing in delight to his onlookers every time the ball goes in the pouch. But five balls later that have gone in like a glove, and it seems it begins to sink in that he's actually pretty good at snooker.
"Do you want a rest?" the man filming asks. But young Adam proceeds to carry his show-stopping skills and then asking for a high five.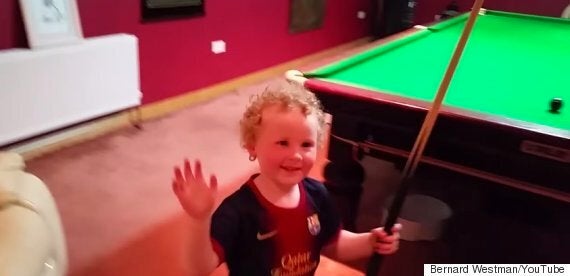 Adam started playing snooker at the ripe old age of one, and two years later he's perfecting his shots - having never been trained.
He's definitely one to watch...