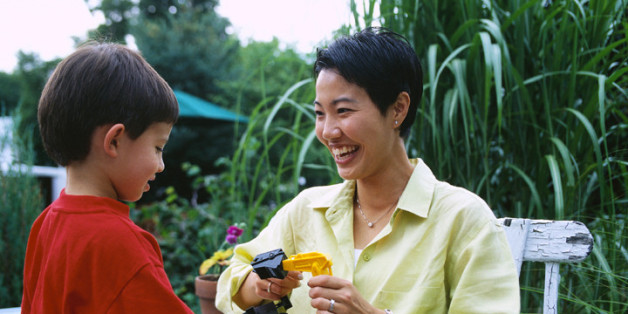 It can be hard to know who you should be following on Twitter, with millions of accounts floating around and no real guide on which ones will give you the best parenting advice.
Not to worry, here's our top 10 favourite parents on Twitter:
1. Netmums - 110k followers
Here's the best advice for new mums from our lovely members http://t.co/DuyQ0G03IQ @bmstores pic.twitter.com/RNi120O1cV

— Netmums (@Netmums) May 6, 2015
Netmums dubs themselves the UK's biggest parenting site, with nearly two million members and eight million visitors every month.
If you're after some good advice or a bit of a break, Netmums is a good one to follow.
2. ReasonsMySonIsCrying - 39.8k followers
"She keeps dropping her fork."

- Christina D. in Utah pic.twitter.com/94GaeRotsh

— ReasonsMySonIsCrying (@ReasonsMySonCry) April 20, 2015
What started off as a fun little project now gets submissions from all over the world. Reasons My Son Is Crying chronicles all the wonderful and absurd things that set our toddlers off. They might not be logical, but it sure is cute when they start crying for strange reasons.
This Twitter feed is one that all parents can relate to.
3. MadeforMums - 35.8k followers
So, Charlotte Elizabeth Diana. Do you like the royal baby name? #RoyalBaby pic.twitter.com/QrKD3gXBBK

— MadeForMums (@MadeForMums) May 4, 2015
Great for competitions, new parent tips and pregnancy stuff, MFM throws up some excellent stuff.
4. Emily Leary - 19k followers
No matter how much you travel, can you really see one of these without thinking of Del Boy? pic.twitter.com/1mupQpQS2c

— Emily Leary (@AMummyToo) May 3, 2015
Food and lifestyle writer/TV presenter Emily Leary loves to blog and tweet about life as a mum. She posts wonderful recipes that kids love, and lots of funny stuff too.
5. Helen Neale - 11.7k followers
Free printables to teach your kids the different food groups #games #health http://t.co/ODjvzhsZcR pic.twitter.com/G2lKrLsox3

— Helen Neale (@KiddyCharts) May 5, 2015
Tweets from the Britmums editor offering parenting advice 'with glass of red & a cheeky smile'.
6. The Reading Residence - 6k followers
I have housework & a huge pile of blog work to do, but I'm sat with a poorly boy needing mummy cuddles. Oh well, CBeebies day it is then..

— Jocelyn Reading (@ReadingRes) May 5, 2015
Jocelyn Reading has two kids, a garden and a home library. She tweets about all three.
7. Amy Flory - 5.7K followers
5yo is drafting a to-do list for when Grandma and Grandpa are here. So far she's got "snuggle" on there 11 times.

— Amy Flory (@FunnyIsFamily) May 1, 2015
Describing herself as a best-selling author and Oreo enthusiast, Amy Flory's twitter feed is full of brilliant one-liners about her children's antics.
8. In The Playroom - 10.6k followers
@UKMumstv making these is so relaxing for me as well as fun for the kids!! #NickJrCraftmas pic.twitter.com/5CNMv2IMCJ

— Anna (@theplayroomblog) December 1, 2014
Anna Marika is a London-based parenting and lifestyle blogger who tweets cute pictures, cool articles and fun activities for your family.
9. 3 Children And It - 5.8k followers
This is what my Saturday looks like....#motherhood pic.twitter.com/Fnu8WVyFNk

— Suzanne (@3childrenandit) March 7, 2015
Fill your feed with tweets from Suzanne, an over 40s blogger with three kids.
10. Chez Mummy - 3k followers
England & Arsenal Ladies player @CaseyStoney is teaching my kids footy skills today. Exciting! #footballmumoftheyear pic.twitter.com/tmo1gCjxX5

— Laura (@Chez_Mummy) May 2, 2015
Video-maker, baker, mum, blogger, writer. Just like all mothers, Laura does it all.
SEE ALSO: