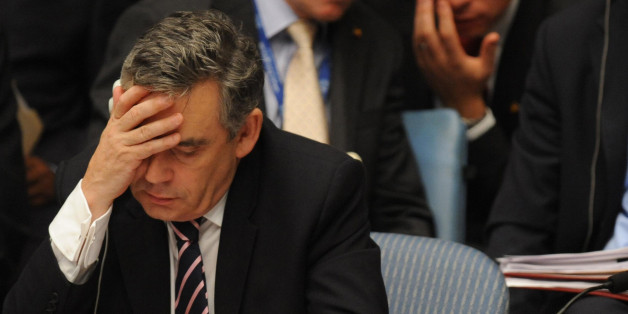 Stefan Rousseau/PA Archive
6. #GE0215

8. Maverick Wave

9. #democracy

10. Annan

2015/5/7 15:17 BST #trndnl http://t.co/do7Hdxwcnc

— Trendinalia UK (@trendinaliaGB) May 7, 2015
Do you see what's wrong with this picture?
Look closely. There's a typo in the General Election hashtag. What is supposed to read "#GE2015" is reading "#GE0215". And the misspelled version is trending higher than the correct one.
A lot of people have been caught out by this awkward mistake, including Dazed magazine:
The 10 weirdest moments of #GE0215: http://t.co/JdmYPDb10N pic.twitter.com/vfBDyPnFb5

— Dazed (@DazedMagazine) May 7, 2015
And Sky:
It's the final (and very busy) day of campaigning ahead of #GE0215 http://t.co/QptXl16ceW pic.twitter.com/hQfeOfmzkv

— Sky News (@SkyNews) May 6, 2015
And a Metro writer:
Then @natalieben chatted to myself & @sharonlougher in Camden http://t.co/g3E3uNyzXo #GE0215

— Joel Taylor (@JoelTaylorMetro) May 7, 2015
And a HuffPost UK writer:
Walked straight past the polling station. Good start. #GE0215

— Louise Ridley (@LouiseRidley) May 7, 2015
The Times too, but they deleted it. Spoilsports.
Armando Ianucci was victim of the slip-up:
My thoughts on the choice before us today. http://t.co/XtfCb9W1WB #GE0215

— Armando Iannucci (@Aiannucci) May 7, 2015
And so were members of the general public:
Voted. #GE0215 pic.twitter.com/uGYzeSWck2

— QueenLaQueefah (@Kayleidogyn) May 7, 2015
But don't worry, we think we've tracked down the culprit.
Very good article from @MSmithsonPB on legitimacy of electoral system - spoiler alert, its legit http://t.co/vNeMnZijQ9 #GE0215

— Keiran Pedley (@keiranpedley) November 20, 2014
Keiran, it's all your fault. You made people look like they were tweeting about an election from 1,800 years ago.
Naughty Keiran.
SEE ALSO: