Who doesn't love a May bank holiday?
The problem arises when you have no idea what to do with your kids for that extra day, especially with the unpredictable nature of the British weather. Ah.
So we've compiled a list for you of things to do with children whether the sun's out, it's raining, or you're just stuck at home.
You're ready for a day out because, shock horror, the sky is blue and the weather is warm. Try one of these five ideas to keep your kids outside in the sun rather infront of the TV.
With technology keeping our kids glued to their phones, iPads, TVs and countless other devices - a sunny day is the perfect excuse to stay outside and move away from the digital. Eating outside is a luxury in this country, so find a local park with lots of green or some scenic gardens to park up for the day.
Give them the choice of party-like food including cocktails sausages and fingers to make it more of a special treat. Take a blanket, let them pack the basket with you, and even a ball or frisbee for games afterwards.
A sunny day in the UK usually comes with a bit of wind, especially in the spring months. Use it to your advantage and take your little ones near a windy bay to bring out a kite.
It's an old school treat, but there really is nothing better than seeing the joy on their faces when they see it flying through the sky. Want to make it a day thing? Make the kite, too.
Kids love playing in water. They just do. Not the 'go and have a bath right now' type of play, but the get completely soaked outside with friends type of play.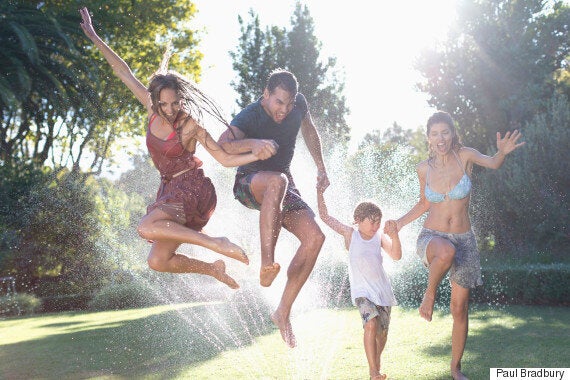 Let them have a splash around in water. Outside swimming pools are a rare treat, but if it's a paddling pool at your local park, they'll love it just as much. If you're lacking in a local pool then get creative with a sprinkler or hose in the garden, and play a game with them.
Do they like being active? Get them on their bikes to head out for a day, but make sure you don't overestimate the route. Find a cafe or some shops midway to give them a pit-stop and a break so they're not lagging by the time you can stop.
Don't over complicate the route either. Plan it around quieter roads and cycle paths to make it more of an adventure than busy roads with tonnes of cars.
One word before you enter the realms of crazy golf: patience. Unless you have a pro-golfer on your hands, they aren't going to putt the ball into the hole easily. So remember that when you suggest it to them. Search for a local crazy golf park - kids love the funky courses and the chance to do something different.
Reward them on their good shots, even if they are far from putting it in. Help them out by placing the ball in a great position if they knock it off course, or even give them a little lesson to speed things along. And make sure they fill in their score card to keep with them as a memoir.
Sometimes you just can't predict what the weather is going to do, so if you're ready for a day out but can't rely on the sun, there's still activities your kids will love.
6. Museums, but the good ones
Museums don't always scream excitement when you tell your children, which is why you've got to do it right. They don't cost a penny, so if you're only in there for 45 minutes and don't see everything, it's absolutely fine.
Although the Tate might be fascinating for you, children love to interact by touching, feeling and doing. Seek out the best bits of the museums that you know they will enjoy, so they don't get bored as soon as they work through the door.
On adventure holidays such as Center Parcs, there's nothing more exciting then booking into the activities for the week like rock climbing and abseiling. So it may not be a holiday, but what's stopping you going climbing and taking your kids on a bit of an adventure?
Check out http://www.kidsclimbing.co.uk/kidfriendly/wallsclubs.php to find local kids climbing walls to you - or give them a go at bouldering if they want more of a challenge. Bouldering is just like climbing but without the ropes.
Bank holiday proves to have loads of activities ready for families so take advantage and invite your children to try something they've never done before. Could you take them to a pottery cafe and get them to paint a bowl (and personalise for their breakfast?), or going to a sewing cafe and learn to create a scarf, or a dress for a dolly.
Many cities are bursting with workshops for families and children - it might just be splatting paint onto a canvas but to them, it'll be a work of art.
9. Take them out for lunch
If you want to be out of the house but not stuck in the rain, give your kids the choice of where they would like to go out for lunch. Going out somewhere that will appeal to them rather than you is bound to keep them content during their lunch.
What do they love to eat and where is the best family-friendly environments? Pizza Express, Wagamama and Giraffe are great, standard options, or find something a little more exciting like the Rainforest Cafe in London (it seriously is like a tropical children's hideaway), or the Hard Rock Cafe in Manchester.
10. Go swimming (or sliding)
Half the time when you take your child swimming, you want them to show you that they can do breast stroke, they know how to do their breathing, and they can do three lengths of the swimming pool. How about the part of swimming that lets them do everything but that? I.e. go down the flumes, play in the kids area, and go round the lazy river.
The best part of swimming as a kid is all those things. Ask them to invite their friends and if they're old enough, take a book and stay as an onlooker. Local leisure centres might even put on inflatable activity sessions during bank holiday weekends, so check out what's going on near you.
Not up for a day out? If the weekend has been busy for you anyway, use bank holiday Monday as a day at home with some exciting activities planned for your kids. But beware, some may require preparation so get clued up with ideas now!
11. Get crafty with recycling
Not all craft activities you find online have to be confusing and require tonnes of materials to get started. Show them how easy it is to be creative with whatever is in your house. Yep, that's everything from toilet rolls, to cereal boxes, milk cartons and padded envelopes.
12. Devise your own treasure hunt
Now this one requires some planning, but you can be as creative or as simple as you like. The one common factor is they're looking for something, and there's a big prize at the end (that's your choice). Try these formats:
a) Have one big final prize - whether it be a present, a day out, their favourite sweets or a certificate of achievement. Set and write down themed clues and put these clues in every room in your house - 12 should be your limit. Point each clue to the next one, and start off easier.
b) Give them a list of things they have to find in a set time - it could be as simple as a paperclip, up to something that is red or black and white. Make some items harder to find, and give them a time limit to when they have to get the items back to you by.
Baking is probably the most satisfying thing to do in the kitchen for children, because eating the toppings and mixture mid-way through is just as exciting as the final product. You could spend hours in Pinterest looking at cupcake decorating ideas, or watch the video below for a quick 'how to'.
Probably not your cup of tea, but definitely theirs. How exciting would it be if you rounded up sheets, blankets, cushions, some snacks, pegs and more cushions to make a secret den in the living room where you can watch a movie, play a game, or have a quick nap?
A 'blanket fort' as it's commonly named is the perfect excuse for a lazy afternoon. Have a quick look at this guide.
15. Ask them what they want to do
You haven't thought of that yet, have you? It's all well and good planning a day for them that you hope they'll love, but sometimes they just want to do, well, nothing at all. They might be content with a day on the sofa watching movies, or simply want to go to the shops and spend their pocket money. Either way, giving them the option might be your best idea yet.
Are you planning something else with your kids? Comments below, we want to know...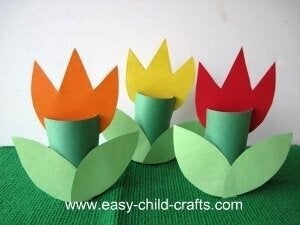 23 Crafts To Get You In The Mood For Spring