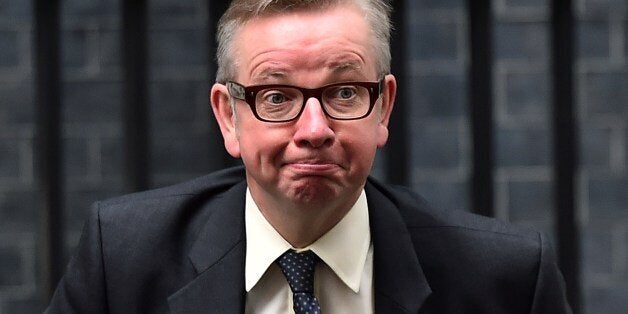 Michael Gove is to make a dramatic return to the top of government as Justice Secretary and Lord Chancellor.
David Cameron is expected to announce tomorrow that he will replace Chris Grayling, who becomes Leader of the House of Commons.
The Prime Minister will also confirm Nicky Morgan in her post as Education Secretary, in what is being described as a "huge vote of confidence" in her performance.
The return of Gove to the Cabinet table will be seen as vindication after his move last year from education secretary to chief whip, in what was widely perceived to be a demotion.
At the time it was assumed that Cameron had concluded that he had made too many enemies in his battles with the teaching profession and had become a liability ahead of the general election.
It was being emphasised tonight in Whitehall that Morgan would be carrying forward his flagship education reforms, including a dramatic increase in the numbers of academies and free schools.
It was reported that disability minister Mark Harper was being lined up for a move to the crucial post of Chief Whip, with responsibility for maintaining parliamentary discipline.
Having increased Conservative ranks at Westminster to 331, securing a 12-vote absolute majority in the Commons, Mr Cameron will be preparing to push through his manifesto agenda in its entirety.
But he will be aware that he remains vulnerable to backbench Tory rebellions, which would only have to muster seven MPs to threaten him.
The changes come after Cameron last night reappointed Chancellor George Osborne, Foreign Secretary Philip Hammond, Home Secretary Theresa May and Defence Secretary Michael Fallon to their old posts within hours of his reinstallation in 10 Downing Street.
The Prime Minister has a greater scope for patronage among Conservative MPs now that he no longer has to make space in his Cabinet for five Liberal Democrat MPs as well as a dozen or more in the lower ministerial ranks.
Osborne's significance in the new administration was reinforced by his appointment as First Secretary of State - the ranking Cabinet minister and effectively number two to the PM.
The award of the title, previously held by William Hague, will fuel expectations that Cameron will not appoint a deputy prime minister to replace Nick Clegg.
Cameron must now draw up a Queen's Speech for the State Opening of Parliament on May 27, which is likely to include measures to drive through the £30 billion austerity package - including £12 billion of welfare cuts - which Osborne says is needed to eliminate the state deficit by 2017/18.
At the same time he will seek to press ahead with plans for the renegotiation of Britain's membership of the European Union in time for an in/out referendum in 2017.