Ukip's only MP has insisted he will not claim £650,000 of taxpayers' money, despite calls from party officials to use it in full.
The so-called "short money" is allocated to opposition parties based on the number of Commons seats and votes they win at an election.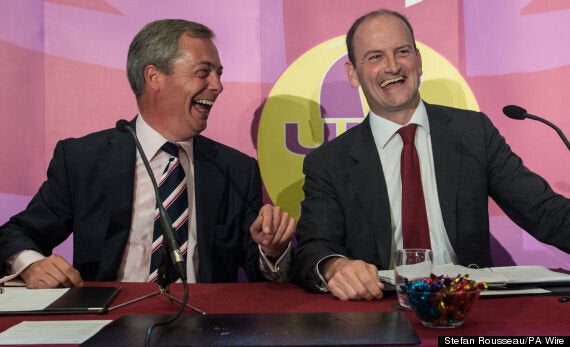 Douglas Carswell (pictured with Nigel Farage) said he couldn't 'look pensioners in the eye' if he took all the money
Details of the row over the public funding emerged after Carswell said he was approached by Ukip officials with a proposal for him to employ a team of 15 people in his office using the money.
He said: "They approached me with a proposal to employ 15 people in addition to what I have got.
"I politely and firmly said that's not going to happen. I politely and firmly explained I would be putting forward a sensible proposal that was respectful to the taxpayer and to public sector workers in my constituency who have not had a pay rise for five years.
"I'm not going to allow anyone to create a Ukip trough in the House of Commons."
Regarding the short money, Carswell said "not even a US senator would have 15 staff" and suggested that he would claim "less than half" of what Ukip is entitled to.
The Clacton MP said that the dispute had been made public by "one or two over-excited staffers" who thought the party should take the full amount.
"When the rules were drawn up (in the 1970s), no one envisaged we would ever get a position where you have one MP and four million votes," he said.
"So anyone can see that's not right. Just because I am legally entitled to it, it does not mean I am going to take it. And I am not going to take it."
He added: "Ukip is supposed to be different and Ukip will be different."
The row involving the party's only MP came as Farage denied planning the sequence of events that saw him withdraw his resignation just days after stepping down following his failure to win a Commons seat.
He insisted the original announcement was made with "absolute sincerity" and that he was "as surprised as anyone" following the National Executive Committee (NEC) meeting during which he was persuaded to stay.
In the immediate aftermath of his defeat in South Thanet, Farage said he would be stepping down as leader in line with his promise throughout the campaign.
But it emerged yesterday he would be staying on after his resignation was rejected "unanimously" by members of the NEC.
Farage, who described going into a darkened room for a few minutes before agreeing to return as leader, dismissed the claim that the episode proved Ukip was a one-man band or exposed a lack of talent within the party.
Instead it showed he was a leader with "overwhelming support", he added.
He told BBC Radio 5 Live: "Ukip significantly helped the Conservatives to win this election by tearing vast chunks of the Labour vote in the East Midlands, West Midlands and the North.
"I have been telling all the Westminster commentators for years that Ukip's greatest potential was among the Labour vote."
Asked if he was waiting for the next Labour seat to become available so he could jump on the carousel again, Farage replied: "I would look forward to a by-election in a Labour seat very much indeed."
Ukip denied any pressure from Farage to reject his own resignation - after it was reported that he was in the room for the deliberations.
Chairman Steve Crowther said: "There was not the slightest suggestion that the NEC was anything other than unanimous in its wish for Nigel to withdraw his resignation.
"He spent a considerable time making the case for his resignation, and the appointment of an interim leader, but there was no-one in the committee who did not want him to stay on.
"He left the room while it was further discussed. I took the views of members and they unanimously asked him to remain as leader.
"The NEC is 100% behind Nigel as we go forward in to the referendum campaign which is already under way."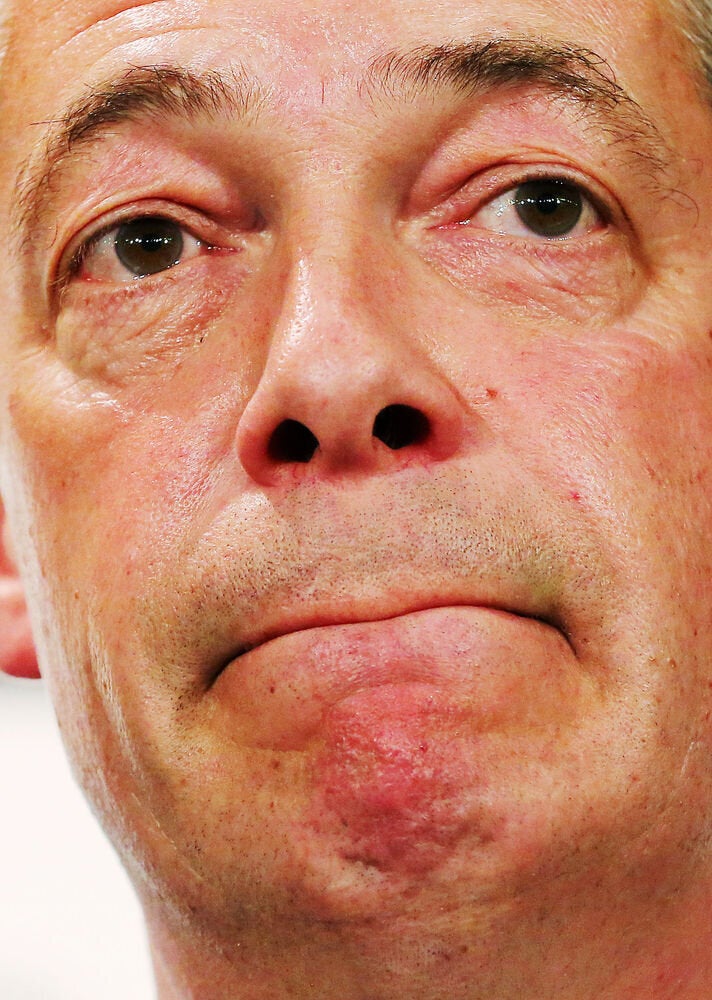 Nigel Farage stands down as Ukip leader