Lorraine Bowen has become an overnight star thanks to her amazing 'Britain's Got Talent' audition - and if you haven't then you're truly missing out - but it turns out that she's already quite an established musician.
SEE MORE:
In Saturday night's show, Lorraine sailed through to the semi-finals, with a little help from David Walliams' golden buzzer, thanks to her original track, 'The Crumble Song', an ode to what she described as the "Sunday afternoon pudding".
However, while you'd be forgiven for thinking she wrote the song on the bus on her way to the auditions, Lorraine's 'Crumble Song' is actually one of her staples, and a quick YouTube search shows she's actually been performing it for at least eight years.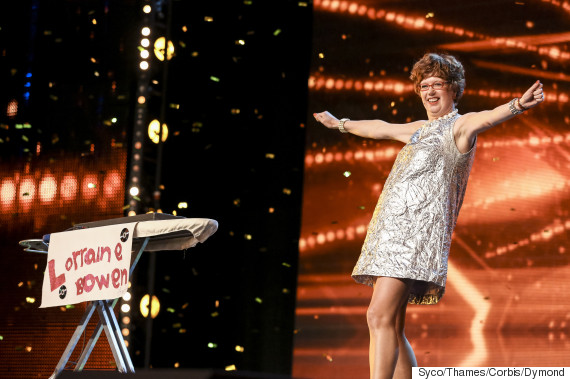 Lorraine Bowen
She even has material available to buy on iTunes, though some of it is noticeably less family-friendly than her 'BGT' audition piece.
For example, have a listen to 'Bears', written about the gay sub-culture, devoted to "leather bears", "chubby bears" and "motorbiking, very exciting, hairy bears" the world over:
Another of our favourites from Lorraine's back catalogue is 'Sunday Afternoon Sex', a song where she sings from the perspective of a student who - you guessed it! - spends her Sunday afternoon having sex instead of "doing her essays".
Take a listen to the cheeky song below:
Aaaaaaaand, just for good measure, here's 'The Crumble Song' again:
Lorraine is one of five acts from this year's round of 'BGT' auditions who was given a fast-pass to the live semi-finals, joining singers including dance troupes Entity Avenue and Boyband, choir Revelation Avenue and solo singer Calum Scott.
The final round of 'BGT' auditions will air this Saturday, at 8pm on ITV.
LIKE US ON FACEBOOK | FOLLOW US ON TWITTER