LG has unveiled a stunning "Wallpaper TV" which is just 1mm thin and weighs so little that it can be 'pressed on' using magnets.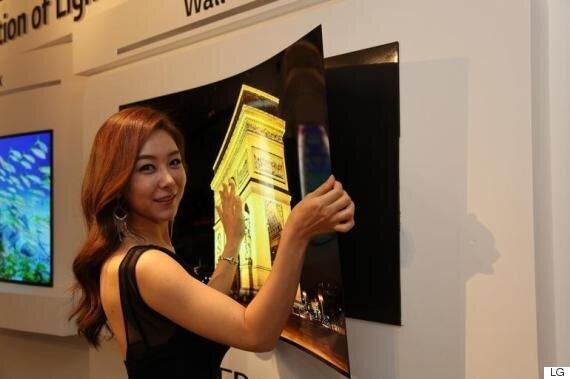 Taking flexible screens to a whole new dimension, the TV concept uses LG's all-new OLED display technology allowing it to be ultra-light and yet just as strong as regular displays.
Don't think that this is just some museum piece though. This is a 55-inch TV that's worthy of any living room and thanks to the way it hangs you'll be able to move it from room to room.
Using a giant magnet mat you simply 'press on' the TV to the mat and there you have it. Want to move it to the next room, then simply peel it off, roll it up and carry it through to the next room.
OLED technology is still considered by the industry as a premium technology, it's still relatively expensive to make and thanks to the low yield of manufacturing, the costs aren't dropping at the same rate as other screen technologies.
The company is already stepping ahead in the smartphone segment with the LG G4 promising to have one of the highest contrast ratios on any smartphone in the world.
The 5.5-inch 2,560 x 1,440 display is already one of the highest-resolution screens around with an eye-watering 538ppi and we can only expect that to get higher as the technology gets cheaper.
Technology is clearly getting smaller, thinner, lighter and generally easier to lose down the side of the sofa. One gadget you probably weren't expecting to lose down the side of your sofa is your TV though.
Well expect that to change, and sooner than you might think.